Mandarin Oriental Tokyo – Why We Keep Coming Back
When you think of tree houses nestled in the sky – you think jungle and woods and an endless scene of nature. I've stayed in a fare share of tree suspended hotels made for bird watching and moon gazing. However, when I entered the Mandrin Oriental Tokyo, all of those notions changed. Suddenly I was in a different type of tree house- but a tree house non-the less.
The sprawling sight of the 37th floor unveiled to me a marble, steal and glass structure of modern and ancient luxury. What's more is that it felt as if it was suspended over the city, floating along the clouds. Needless to say that it was no less spectacular then the five star retreats I saw sprawling across Asia's jungles, or Europe's country side.
The Mandarin Oriental Tokyo met every expectation, each time surpassing what I knew would be a very special stay.
If you are looking to be inspired, blown away or just to live in Translation (Lost In Translation that is) then look no further then the Mandarin.
In this post I'm going to discuss all of the restaurants, amenities, accommodations, the service and overall brilliance of this incredible hotel.
SERVICE
For those of you that are fans of the Mandarin Oriental one underlining factor that any fan can agree on is their level of service. The consistency in impeccable, the attention to detail is mind blowing and their level of genuine care is second to none.
Staff bow and smile, people remember your names and preferences. Every single demand is met without a hassle. This can be said for any Mandarin hotel I have ever stayed in. However, in Tokyo this seems to be amplified.
I want to emphasize that I have stayed in this hotel on many occasions, and in different seasons. I want be clear that my experience was not an isolated one, and that each time we entered the doors the level of service was exactly the same – flawless.
To explain it simply, there is a level of detail that goes into greeting you in the morning, getting you coffee, arranging an excursion or simply helping you with your bags. It even goes as far as remembering something that you needed the day before.
This makes your stay a true luxurious home away from home.
For my husband and I the Tokyo chain is perhaps the most home like of all of them – after our first stay where we spent Christmas at the hotel we didn't return until August three years later. To our surprise the hotel manager remembered us, she remembered us and several small details like my fascination with Sumo and my love for vintage kimono.
Several years later we returned and the same manager greeted us once more. Finally a year later, in the fall when we stayed there for a part of our baby-moon she not only felt like an old friend- but she gifted us a baby gift.
You cannot buy that kind of detail and service. To me it's the value system of this hotel that makes it stand out above the rest.
LOBBY & CHECK-IN
All around five service.
Check-in at Mandarin Oriental Tokyo is an experience.
You arrive in a small first floor lobby flagged by beautiful water fountains and greeted by an array of impeccably polite staff.
Then the magic happens; you are escorted up an elevator to the 37th floor where Tokyo opens up to you from a suspended glass terrace which houses a lobby with a traditional art installation (in this picture it was an incredibly framed bonsai).
Check-in can be done both in-room and at the series of front desks lining one side of the glass terrace.
I love the in-room check-in service for late arrivals and jet lag.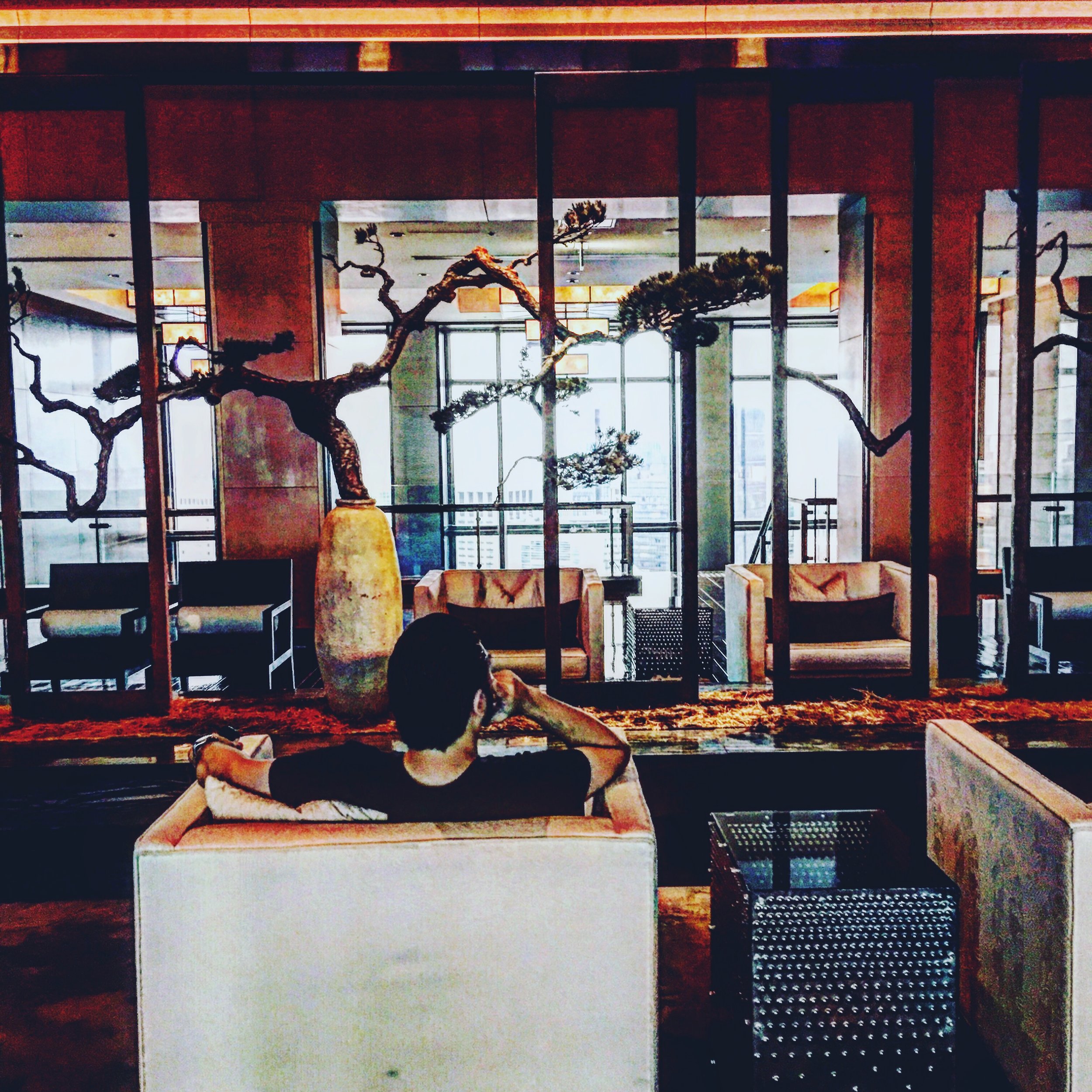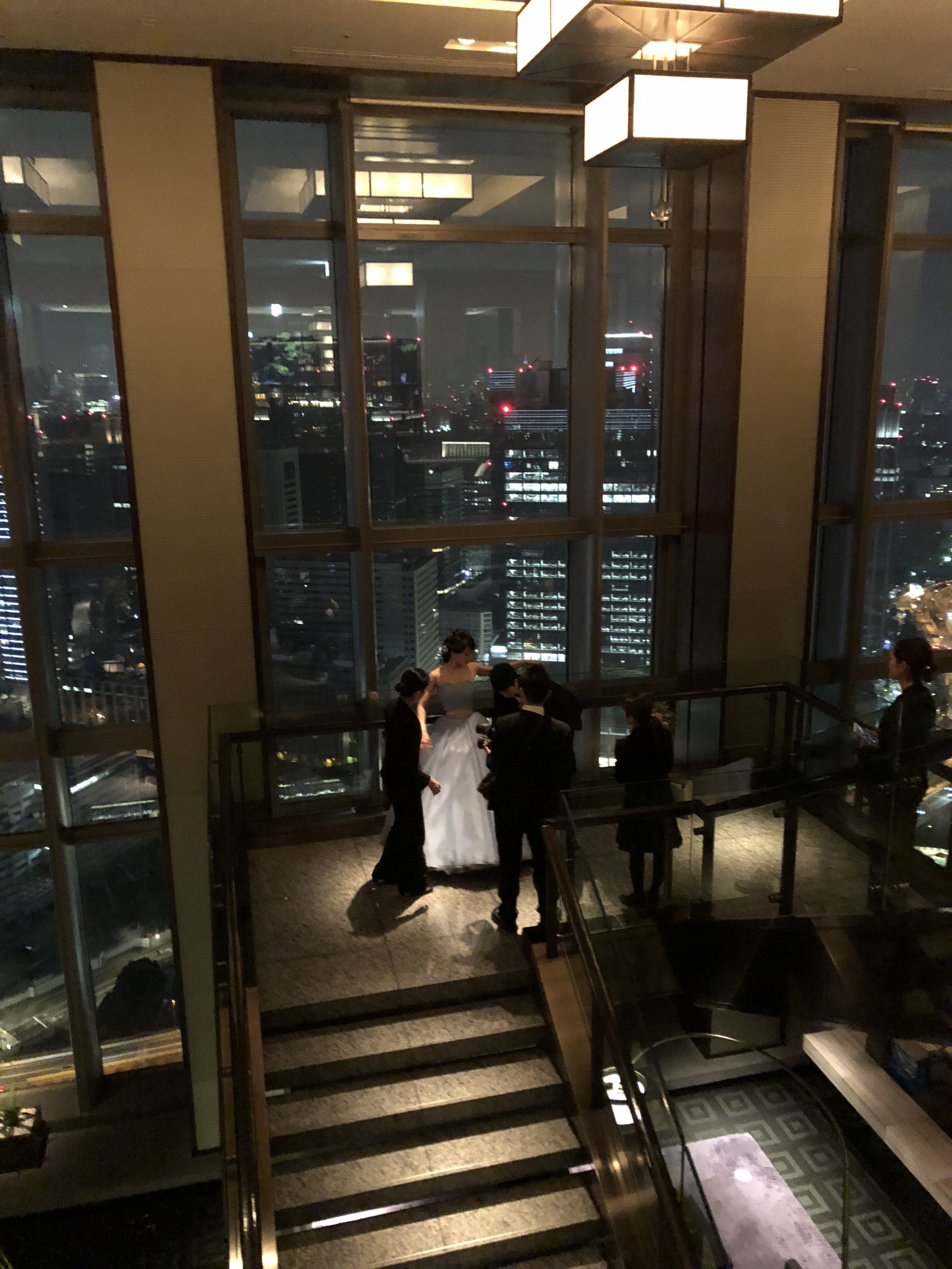 DINING
SUSHI SORA
I have had the great pleasure to dine at Sushi Sora four times and each time was more spectacular than the last.
Originally on my husband's first visit to Japan we wanted to get a traditional and authentic sushi experience in a foreigner friendly environment. We read about Sushi SORA and found it to be the very best option.
It can be very intimidating going into a five star sushi restaurant in Japan as a first time foreigner – there are a ton of traditions that go along with dining at such a level, and the sushi traditions are very vast, detailed and specific.
Sushi Sora provided an incredible opportunity to learn how to eat sushi correctly. The chef educated us on the traditions of eating sushi verses sashimi, how and when to use sauces and condiments and how to properly use our hands and utensils for every dish. To be honest I have used the skills he taught us in many dining settings since then.
It was refreshing to be so relaxed in a five star dining experience. I felt comfortable enough to ask questions, laugh and make mistakes.
In all of my experiences eating at Sushi Sora there is always an English speaking chef on staff. Typically two chefs are at the bar in front of you and each chef is designated to serve one or two pairs of guests.
Upon ordering your dish of menu selection the chef explains everything to you, starting from how to properly dress and eat the fish in front of you, to the dishes background and ingredients. Soon enough the experience begins to transcend just eating; instead presenting a deeper value of culture and history. Needless to say the first time we dined here we received full Harvard education on sushi – and it was to date one of the best meals of my life.
Key Tip: You should know that many traditional sushi restaurants do not serve alcohol. I enjoy Sushi Sora for its variety of top shelf liquor, and their paring menu.
The quality was superb, the chef pulled out and showed us the box of the number one uni from the market that morning. They pride themselves on quality of ingredients and Sora never disappoints.
On our second time in this restaurant I took my stepfather and my mother as a birthday gift and it's needless to say they had one of the best dinners of their life. We actually had the same sushi chef who remembered us years later.
My husband and I have eaten here several times since, trying both the tasting menus and alacarte. For your first visit I would advise a tasting menu, they have three to choose from.
This restaurant remains one of the most significant in my dining experience – the small bar counter and intimate setting is highlighted by a sprawling view of Tokyo, ideal for any occasion.
MOLECULAR GASTRONOMY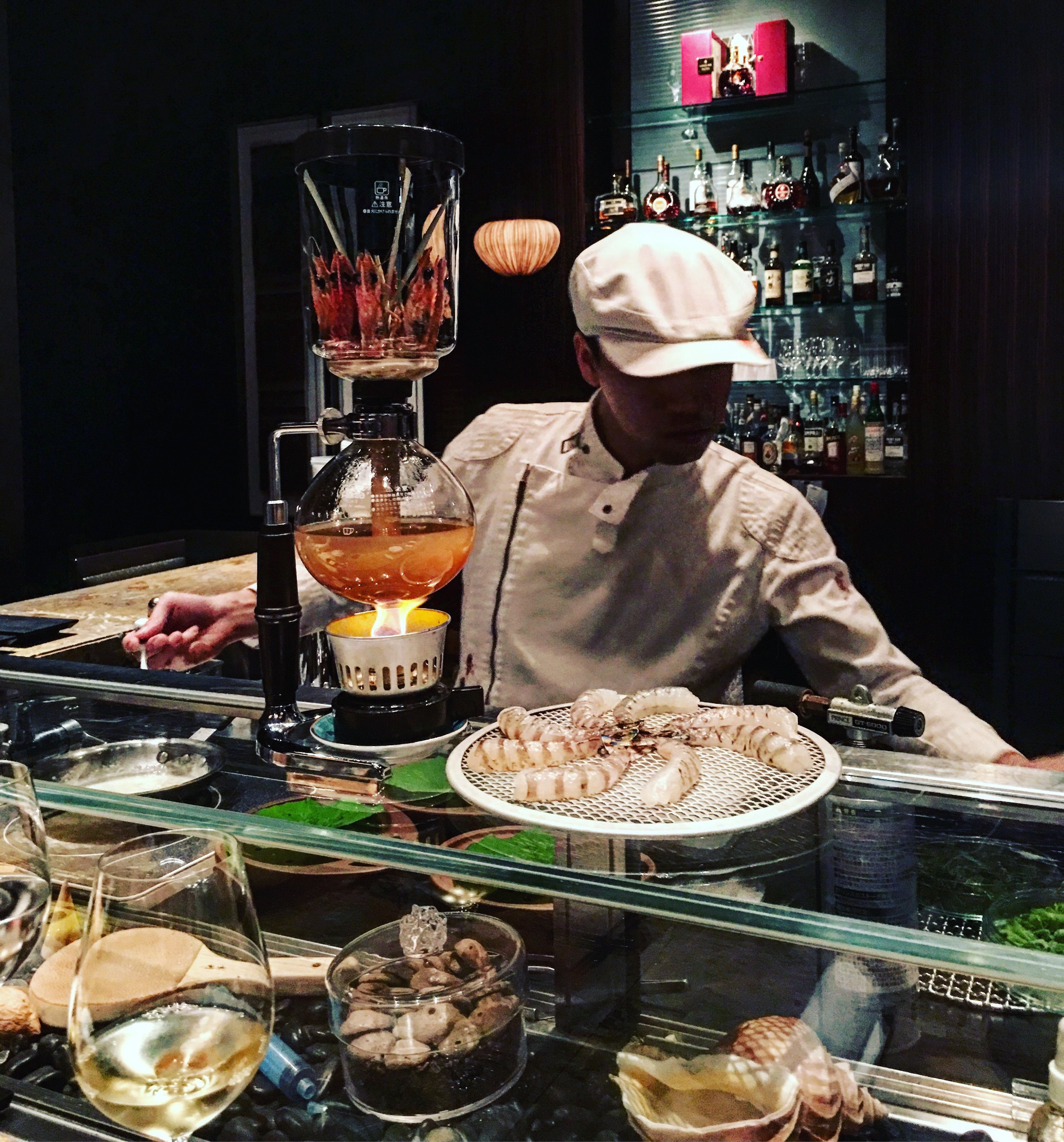 This is such a uniquely cool experience! The only way I can describe this meal is that it's like going to the circus to dine.
The chefs are young and hip and fun and they know how to entertain and educate all while cooking incredible and very unique, memorable dishes. The theme of every dish and the setting it self is whimsical. These young guys take molecular gastronomy to a whole new level; they don't just serve, but they explain, entertain and delight with every serving. They create magic tricks and have you execute them by eating the food they bring to life in front of tour eyes.
It is also very, very clear that they are in love with what they do, happily creating a one-of-a-kind experience for their guests.
This dinning is a bar counter experience. You wait to be seated by looking over Tokyo at one of the hotels beautiful lounges, which looks over the city. After all of the guests arrive you are escorted to your seat and presented a tool box- which hosts a set of utensils you will be using during the meal.
Every dish is insightful and unique, often prepared in front of you.
If you want to bond over a magical experience I would truly recommend a dinner here with a date, a friend, a travel companion or family. The experience leaves an impression and has you talking about it for days.
The chefs are also really cool and very human. Unlike other molecular gastronomy chefs these guys feel very down to earth.
The hotel has two seatings, an earlier and a later. Dan and I actually did the later seating and then stuck around and spoke to the chefs for a while who where very accommodating and telling us about Tokyo and some of their favorite restaurants, giving us great recommendations.
In the end we felt like we made some new friends, some great memories and learned a ton about the emerging new food scene in Tokyo and molecular gastronomy.
GYM
When I travel I like to work out (I do!). It's a great way to re-connect with your body after long flights.
Staying active during vacations and travel comes with its own set of challenges. Jet lag, time difference, sightseeing and new foods can all effect workouts abroad. A gym you really like and enjoy can make all the difference.
I've worked out in this gym many times and actually filmed several a workout videos here. And this gym remains one of my favorite sweat dens away from home for one single reason: THE VIEW.
Imagine exercising while suspended over Tokyo. In the Mandarin Oriental you can look out in front of you and see the massive city.
I love the configuration of this gym; all of the cardio equipment is lined facing interrupted gigantic windows with extraordinary views.
The weight equipment is on the other side and pretty significant for anyone looking to get a total body strength workout. It has everything you need both free weights and machines.
There are also trainers you can request and someone always on staff to help you.
I watched a trainer train a client and I felt like he was extremely knowledgeable.
For those of you wanting to get out: the hotel provides a really fun running map with sights. A great detail for every guest.
ROOMS
Often times you feel that in order to get a truly great room experience you need to upgrade to a penthouse or a big suite. In Tokyo people tend to worry about the room sizes because traditionally Japan has smaller rooms than some of the western hotels we may be used to. What I love about this hotel is that is absolutely not the case.
Because of the floor to ceiling windows any room you choose feels amplified and spacious in size.
The configurations are also extremely comfortable, every single room has a luxurious bed, a couch and a work desk that make a great live-sleep quarters.
Each room has a view of either Mt. Fugi or Tokyo Tower. If you are looking for a MT. Fugi view note that the mountain is covered with clouds in different seasons.
Every single bathroom has a beautiful divider between the room and the bath which connect the bathroom and make the room feel larger and more luxurious and more romantic.
Each bathroom, no matter the room class has a large bathtub and a beautiful marble shower. Of-course the room is fully stocked with everything you need so you don't have to worry about dragging your shampoo or lotions from home, everything is there.
When picking which room to stay in – you will feel incredible at any budget. All of the rooms are a mixture of luxury and home.
BREAKFAST
In my opinion the Mandarin Oriental hotels have the worlds best breakfast. Tokyo and Bangkok being the two greatest breakfasts I have ever had (period the end).
The amount of variety combined with the service and the ambience is only out done by the extraordinarily sourced local ingredients. Generally, in any country people will tell you to get out and have breakfast in the city and explore the culture through the food. But I will tell you first hand that you should stay in for breakfast.
If you're looking for authenticity the chefs here use local Japanese ingredients and create dishes like my favorite eggs Benedict at the highest level.
During several breakfasts on different stays the manager has walked over to us and told us about the various vegetables, fruits and proteins. Explaining the farm an egg came from or the quality of a fruit and its aging process. Essentially there is a level of detail and care to the way things are prepared and presented that goes beyond a five star meal – because it feels personal.
If you are thinking about including breakfast with your stay I am telling you to do so because it is well worth it.
On one of our stays it was my stepfather's birthday and the hotel staff found out and served him a special birthday fruit plate. This added yet another layer to the great detail of care.
LOUNGES
If you want to experience romance in Tokyo I would simply say go and have a glass of wine or a specially curated drink at any of the bars in this beautiful hotel.
There is a piano player, a small waterfall and of course interrupted views of Tokyo.
The bartenders are like chefs and watching them make drinks is both a pleasure and an art.
People watching at any of the bars is a very special, you'll see business man making deals, celebrities and women dressed in traditional Japanese robes having tea.
PEOPLE WATCHING
This hotel is really fun because it is host to just as many locals as it is to city guests and tourists.
On many occasions I have seen weddings take place here, or watched women dressed in traditional kimonos share conversation over tea.
I quite enjoy sitting in the lobby or at one of the hotel bars and searching through the crowd. There is a diversity in this hotel that I quite like and enjoy.
On Christmas and New Years many locals stay at the hotel and celebrate, so the scene feels festive and authentic.
CONCIERGE
I love the concierge here because they remember every time we come back.
The last time we were here I was pregnant and the concierge along with the staff gift us an incredible baby book and wrote a card that said they couldn't wait to meet our daughter and our next stay.
Over all it is this level of detail that keeps me coming back here over and over again. If you are looking for a memorable experience in one of the worlds coolest cities- this hotel will keep you coming back over and over again.