Mandranova – Experience Authentic Sicily
When I was in college, I met a boy from Sicily, Nunzio, he helped me pass economics class while I helped him understand literature and Greek mythology. Our friend Tanya helped us pass developmental physiology. On long breaks between classes the three of us would sit at the overpass on 72nd and Lexington and he would tell us stories of his homeland.
"It is, and it is not Italy" he would say with large hand gestures, his mind sneaking off somewhere out of this city and into a childhood of grass and lava, textured olive oil and sheeps milk.
"I want to get stuck in a sea of sheep" I told the two of them once. "For hours I want to stand there and wait for a Shepard to move them along. All with a breeze and the sight of olive trees in the distance."
"Yes, yes. That is my country. Although a Shepard may ask you for a tip to move the sheep quicker."
We went our separate ways a few years into undergrad. Each one of us focusing on our majors, no more electives and test sharing. We grew into ourselves and out of our first year friendships. I'd often see Nunzio and Tanya in the halls, but all three of us had little time to sit and daydream about our futures, life getting the adult in us.
And yet, being here, in this place. And thinking of so many others I'd carved into my heart over the years, so many countries and cities and overlooks like this one, I can't help but think of our talks; and that finally I made it to Sicilia. #Sicily
Authentic Sicily & Mandranova
When my husband, my mom, my step-father and I decided on this trip we knew that we wanted a traditional Sicilian experience. And while not quite sure what that would be- I knew I wanted olive fields, home cooked dishes, sand, bread, wine and a local spirit. After a night in Polermo we took to our car and drove across this gigantic, whimsically old island to Mandranova.
We arrived in the evening- not knowing what to expect we pulled into an incredible driveway; the landscape of plateaus and olive fields lining the grounds at every edge. Large purple flowers met us at the gates, and a big beautiful German Shepard ran to our car, licking my hands as I opened the door. A warm and very authentic Sicilian greeting.
A woman wearing an apron greeted us, friendly and homely she told us that dinner was being served shortly.
We gave her our names as I looked around the picturesque olive farm; the beautiful gravel and stone courtyard, the romantic white brick building with an old world yet modernized traditional roof. The beautiful windows outlining the guest suites, the rustic yet refined spaces between the homes quarters. I felt Sicily, and I felt, after a long trek through Rome and Palermo – home.
The owner made his way happily out of the lobby, greeting us. Petting his dog on the head and commanding obedience, he smiled and said 'Welcome to my home.'
They both escorted us up a mountain of olives to a second home situated above the fields. A sprawling view of Sicily and the neighboring farms lay beneath the house – a blanket of transcendent scenery was all around us.
A small yet modern infinity pool lay over olive trees on the edge of the homes foundation.
Sandstone stairs led inside to a cozy yet large guest house of two bedrooms, two baths, a kitchen and a comfortable living room.
I was delighted at the design; traditional yet updated in every way a guest would require.
The spacious stone and glass showers, the large comfortable beds, the glass windows looking out into the fields. Perfect, modern, rustic, romantic and authentically Sicilian.
Beneath the property of the guest house, with-in walking distance, down the mountain, along a stone and gravel path lined by olive trees we could see the courtyard of the main home and suites.
We made our way to dinner that night: seven tables with guests chatting and dinning in the courtyard under the moon an stars.
We drank wine from a great selection, and ate the home cooked restaurant quality four course dinner served by the staff- including the head chef: the owners wife.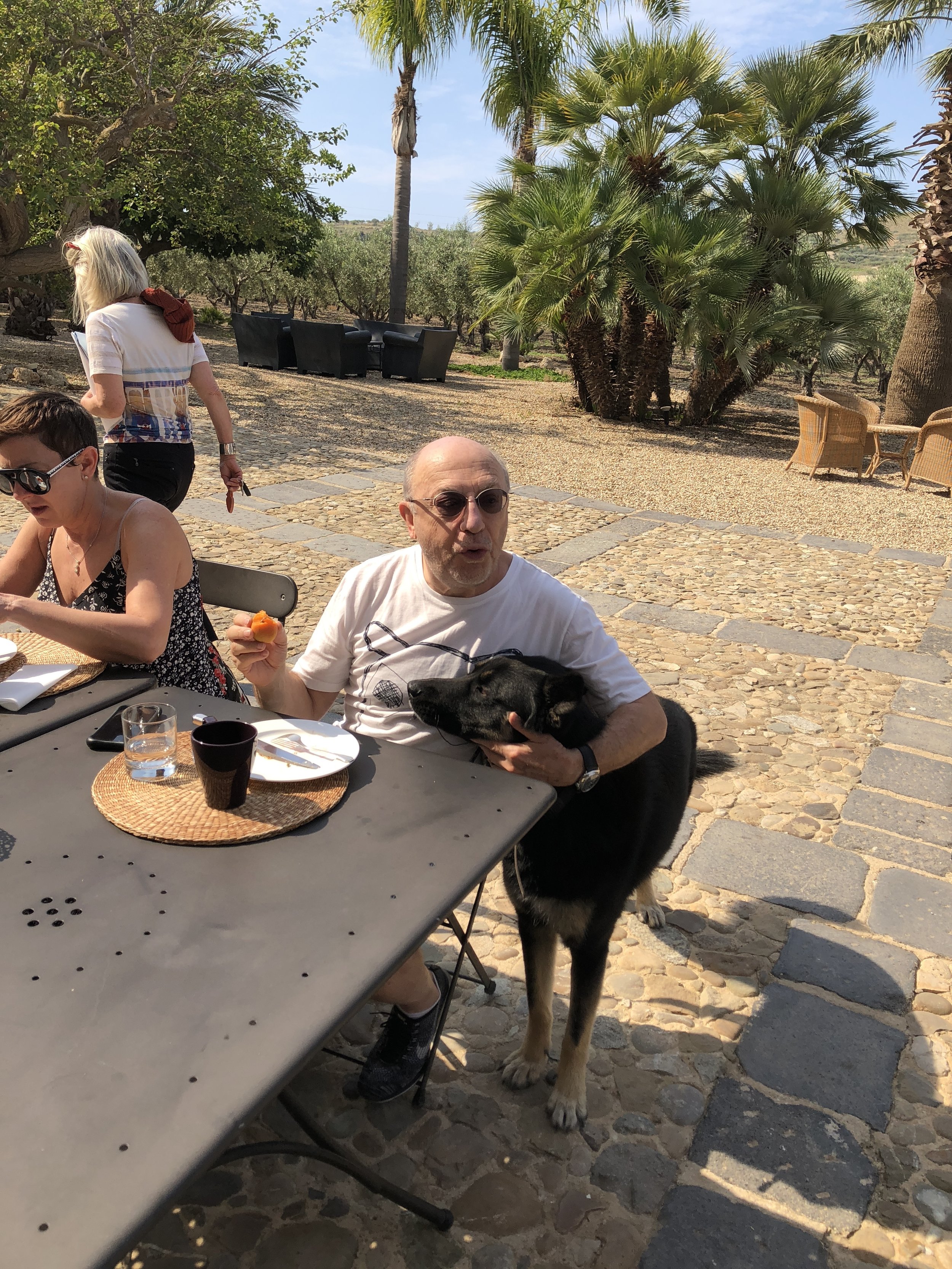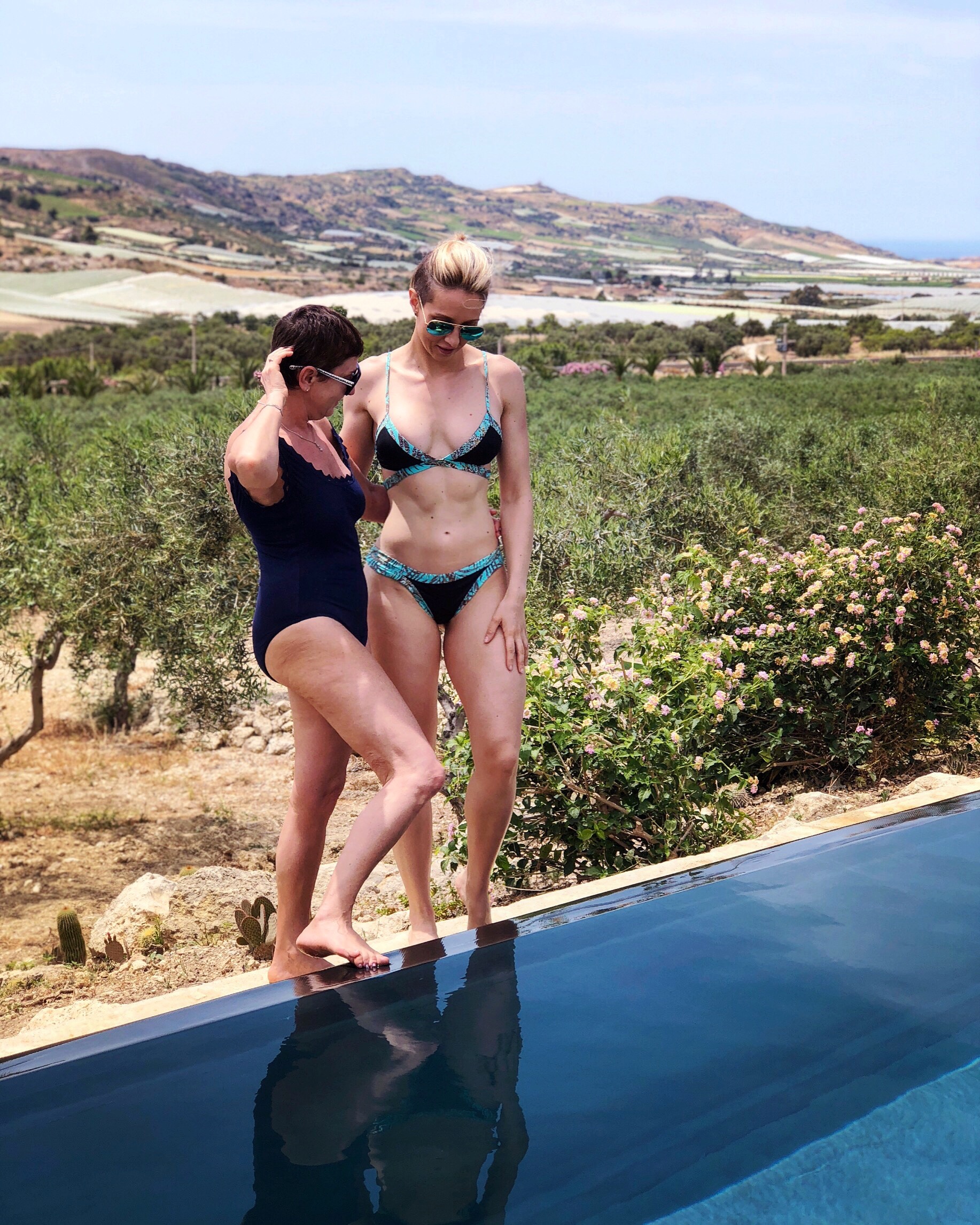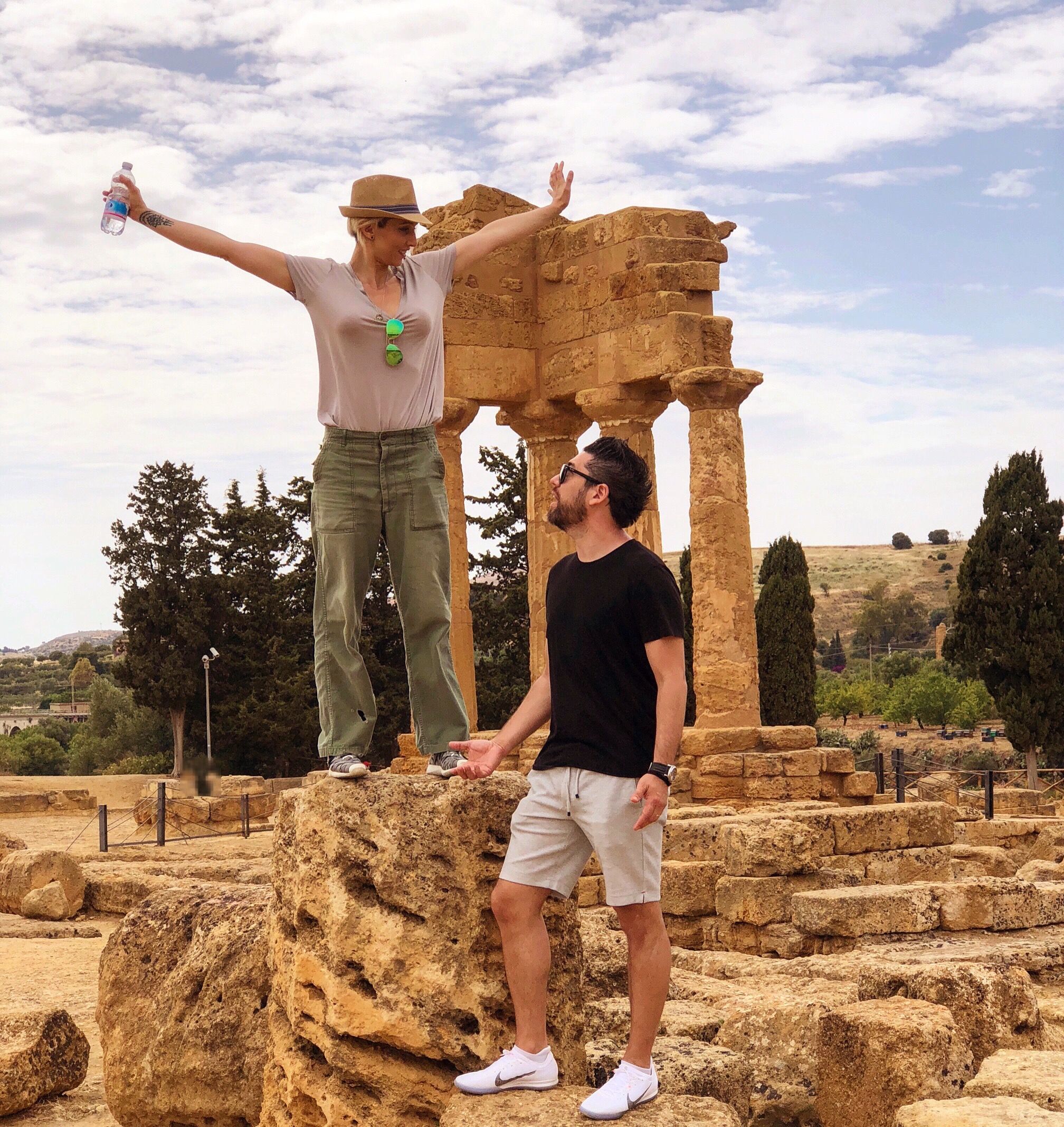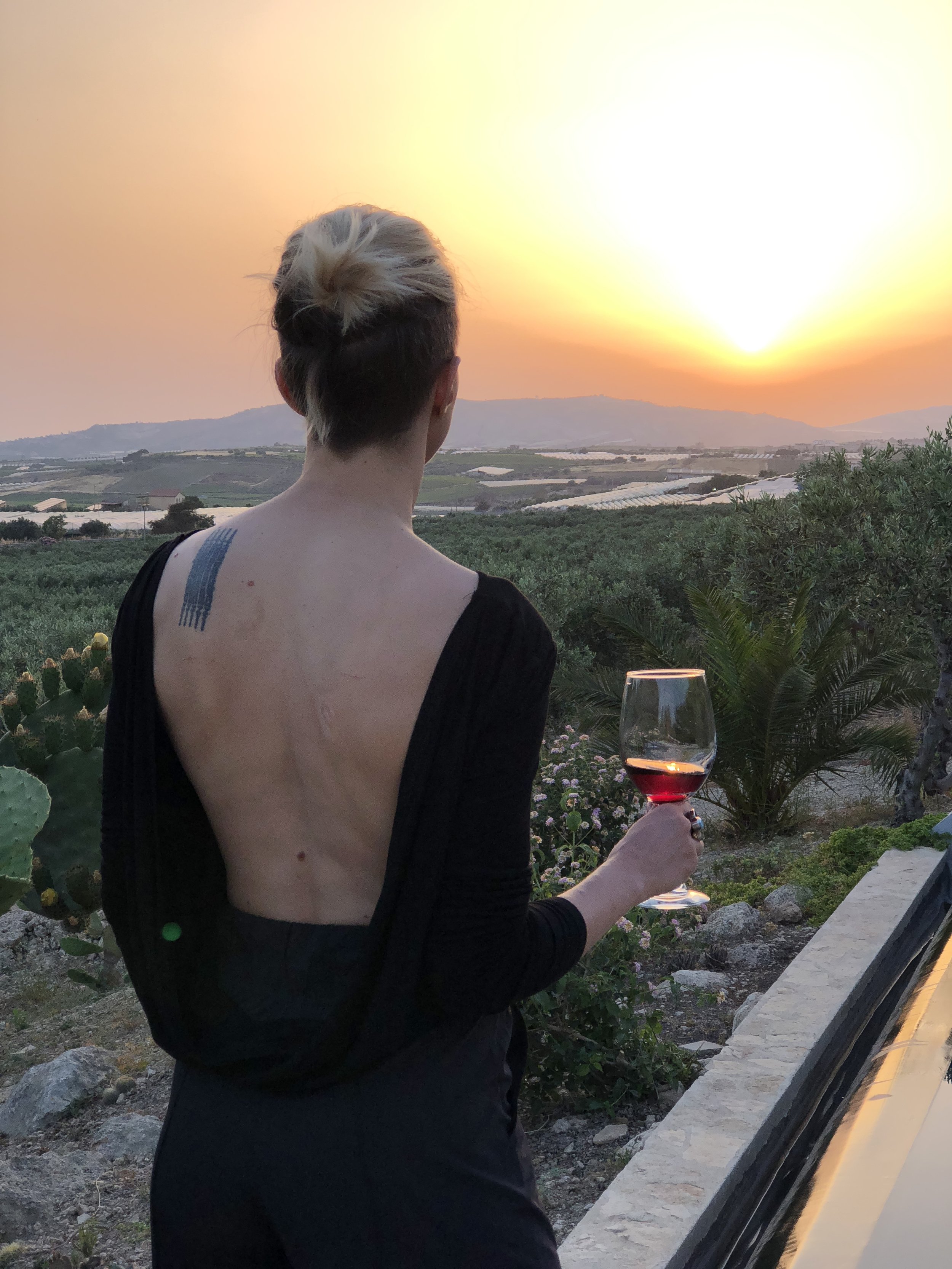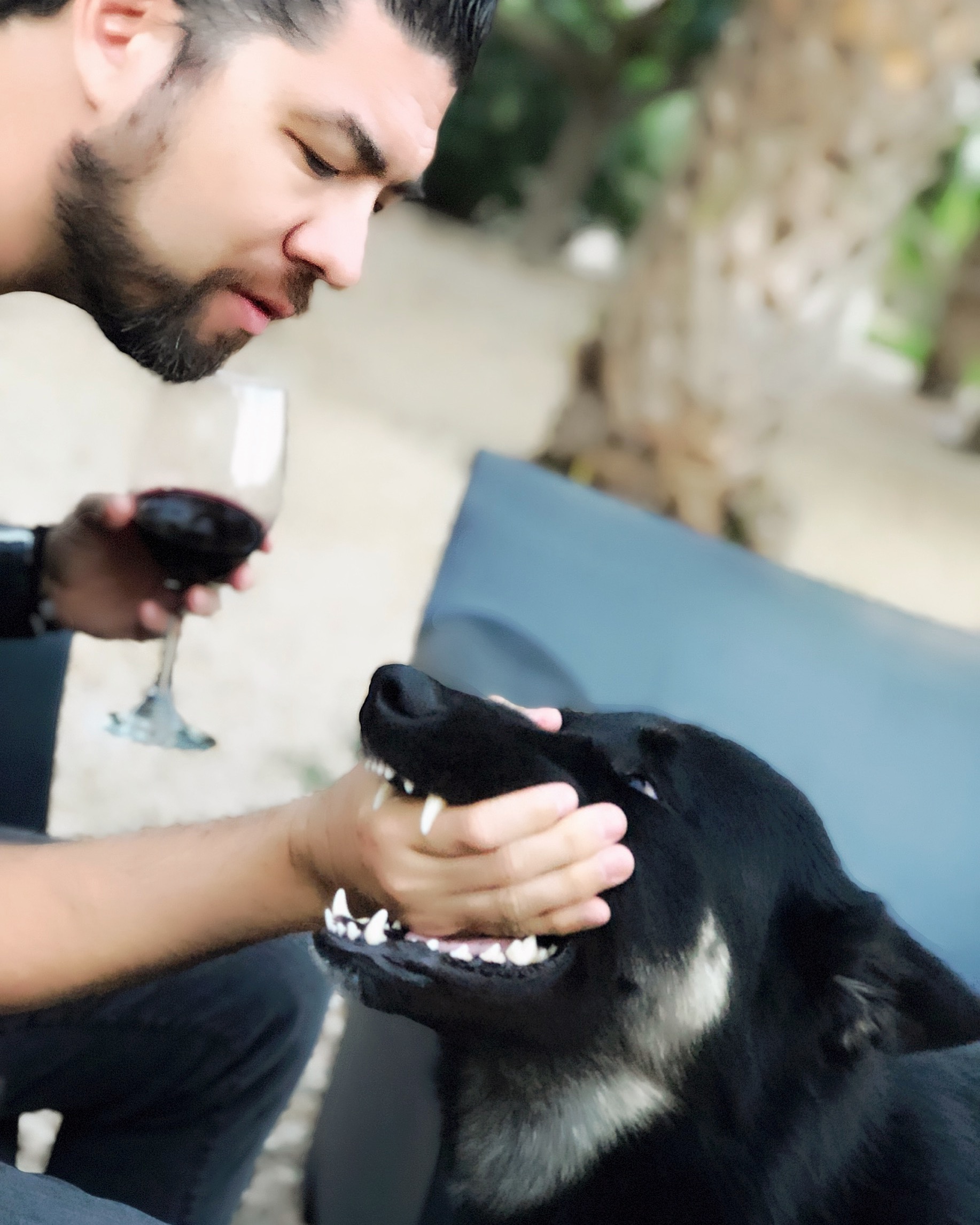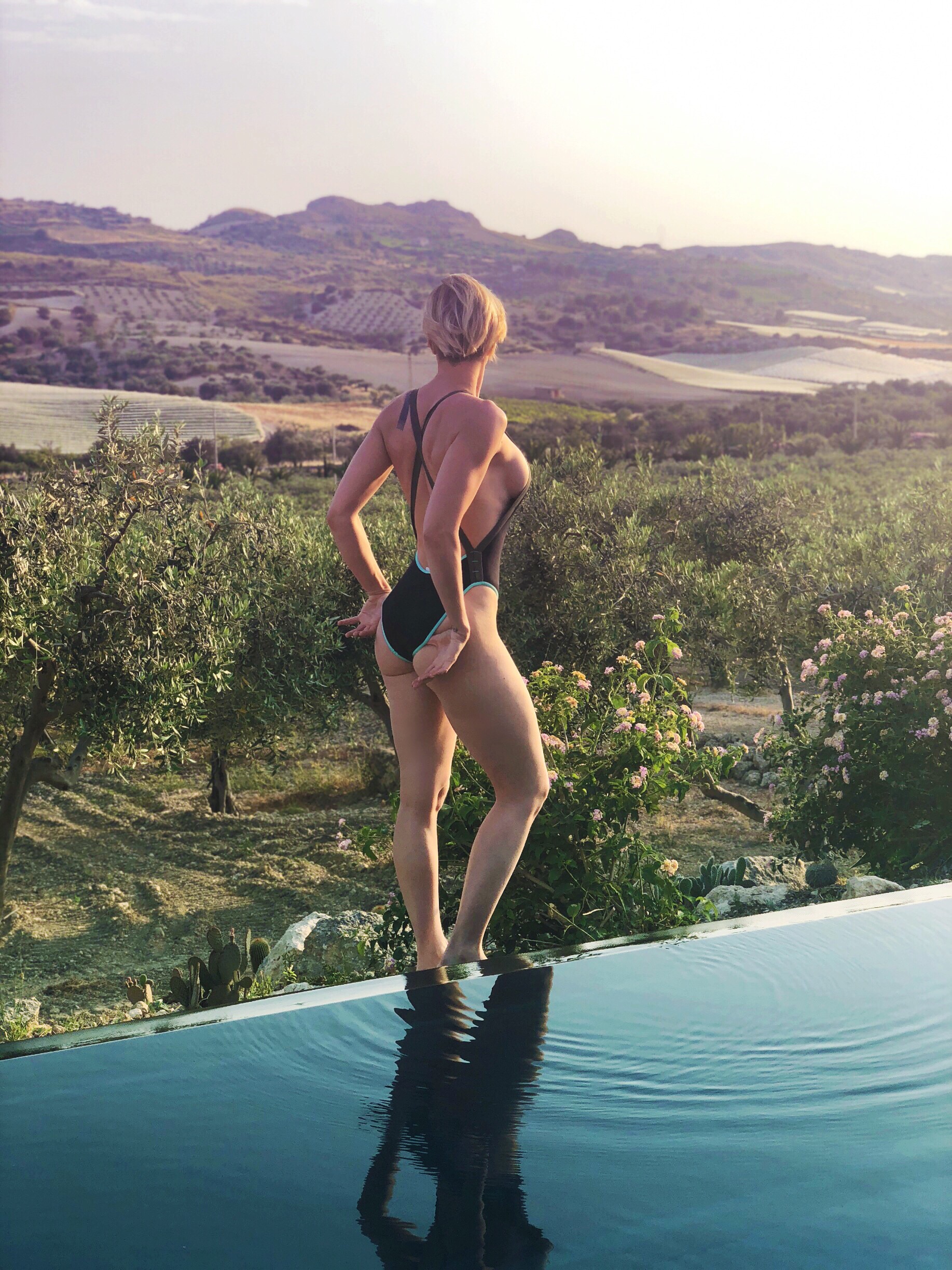 The Farm House
Rustic simplicity with old world charm and new world style.
On a hill, a few miles from the sea, there is a green oasis where a selection of native young olive trees grow in our olive grove, as well as some which are several hundred years old. All are individually irrigated.
Here the owners produce extra-virgin olive oil, almonds and conserves that are expressions of their land, their culture, their history and their Sicily. They sell the products, and host educational excursions along their farms, teaching visitors the labor and love it takes to maintain and produce their products.
You can see the rich tradition of history and culture in every tree and every stone on this property. Staying here you become a part of this process, this tradition and this ecosystem – uniquely and beautifully Sicilian.
The Food
The restaurant, which serves breakfast, lunch and dinner to all of its guests in an out-door / in-door home style five star setting offers refined Sicilian home cookery based on their home grown and locally sourced produce. They vast wine selection lets you sample the full spectrum of Sicilian wines.
Every meal is unique and different – in our five nights here we never had the same dish twice, and where always delighted by the simple, yet delicious meals.
Before dinner you can visit the olive grove and olive press and experience the secrets of world class extra virgin olive oil production.
Cooking Class
Signing up for cooking class was something I really wanted to do. Typically the owners wife runs the kitchen and the class, however on this occasion her son, visiting from Japan, where he helped run a Michelin Star Italian restaurant in Kyoto was guest teaching! I know!!!
We put in 3 hours in a traditional Sicilian kitchen with a top Michelin chef who studied in Kyoto and whose Sicilian mom taught him how to been cook in this kitchen over four plus decades.
You can eat the food, enjoy it, love it, remember it, but not until you see it made from scratch can you really understand the depth of the culture, the history and the true heart of the people
Over All
Mandranova is your Sicilian home away from home. You can cook with the staff, arrange unique activities on and off poverty, relax, swim, write and truly enjoy. The hospitality and authenticity here is second to none.