China by Train; experiencing both authenticity and luxury
水满则溢。(Shuǐmǎn zé yì. 'water full but overflows') — Water flows in only to flow out.
China by Train – on this trip we felt like we experienced the true authenticity of China, all while still getting the five star experience we wanted from a vacation.
Below, I'll discuss our itinerary, our travel methods (which helped us get the most authentic experience out of this great country) and our stays (which helped us relax and experience luxury and great hospitality).
WHY CHINA?
We decided to go to China because I have always wanted to go to this incredible, vast land. Asia has forever called to me, every part of it appearing in my dreams. Amongst Japan, Thailand, Myanmar, Cambodia, Korea, Mongolia there was always China. This vast and ever changing landscape takes up much of a continent, and towers over many countries with its history and tradition. In countless ways China is the origin of Asia, and in many others it is the future as well.
It is undeniable, the history, the controversy, the many vast enterprises of this great country.
To many Americans there is no place more exotic and contrasting – however, if you are a traveler from the US, you will find the this journey will challenge many of your preconceived notions of this country, while underlining others.
While we associate China with The Great Wall and the Terra-cotta Warriors, as well as a host of other traditional monuments, China isn't all history and ruins, a vast portion of it is developed and developing beyond a Westerners beliefs. It's cities are massive compared to even New York or Paris, and they hold in them a spectrum of sights; from the most modern to the most ancient.
On this trip I craved to discover the vastness of China, all while getting as much of its culture as possible. I wanted to see the sights that I have read about in text books and glossy magazines. The trick was booking the travel, stay and itinerary that would best give me an authentic yet vacation experience. We needed to get rest and rejuvenate, but I also wanted to get my miles in and truly explore. We also wanted to connect with the people and the land beyond marble hotel bars and spas.
All in all I think we accomplished a great trip – the details of which are below.
THIS TRIP
We landed as a layover in Hong Kong – spent 7 hours exploring (see my layover HK post here)

Flew to Beijing for 4 days

Train to Pingyao 1 night

Train to Xian for 1 night

Overnight a train to Shanghai 2 nights

Overnight to Hong Kong 4 nights
OUR STAY
Waldorf Astoria – Beijing
I have never stayed at Waldorf Astoria before, always opting for hotels Like Four Seasons or Mandarin Oriental, however this hotel (specifically the room) knocked the wind out of me. I could not have imagined a better bathroom, bed and living area – it was perfectly designed, beautiful and comfortable. The hotel had incredible breakfast and several wonderful (American and Chinese restaurants). The spa was great and the gym was perfect for me. The hotel is super new, and the service was great. It was also very centered to everything you want to see in 1-5 days of your stay in Beijing.
Tip: skip a lunch and do tea in the lobby (add a glass of wine to it if you can). High tea in the Waldorf is INCREDIBLE.
Jings Residence at- Pingyao
OMG – there is nothing more authentic. I LOVE this little city at night and I adore and love this hotel in day and night. IT IS THE MOST AUTHENTIC luxury experience I had on the entire stay. The doors, the suits, the decor – it was incredible and I would recommend it to anyone. The dinner was literally 'home cooked' and best I had in China. This city is known for their noodles- so order them!
Sofitel On Renmin Square – Xian
While a very big hotel, it is the best you will get in Xian. Why go to Xian (it's a super cool city) and it's your destination point to see the Terra-cotta Warriors.
Overall the hotel is too big to feel like you are in China, but it is comfortable, has great food options if you are arriving late like us (we did room service and had a blast). And they have a nice bar, opened late. Best part? This hotel is very central to the city.
The rooms are spectacular, truly, not too large and not too small, they are amazing. The best part? the pool, which was like a private sanctuary.
The Peninsula – Hong Kong
Like Shanghai but even bigger- this hotel is a larger-then-life-celebrity-diplomat feel to it. If you want to feel non-stop action I would recommend this place, as it literally never stops. There are quote places, as they have an incredible pool and a gym with a yoga practice roof-top that overlooks the city. During my medication I heard helicopters landing and taking off from city roof-tops all around. This hotel is big, yes, but if you want to always be in the mix of something. while experiencing great luxury and style- this is it.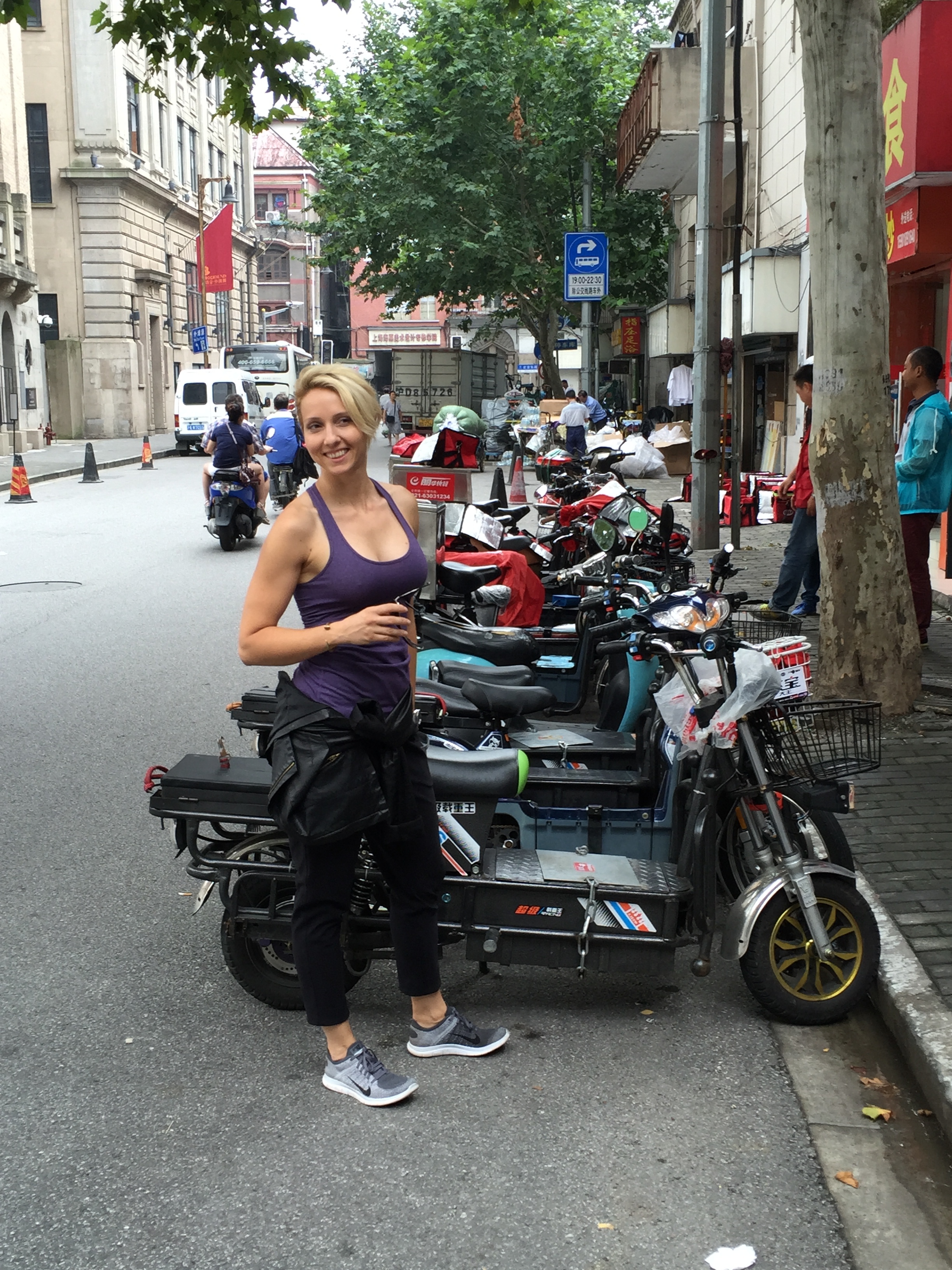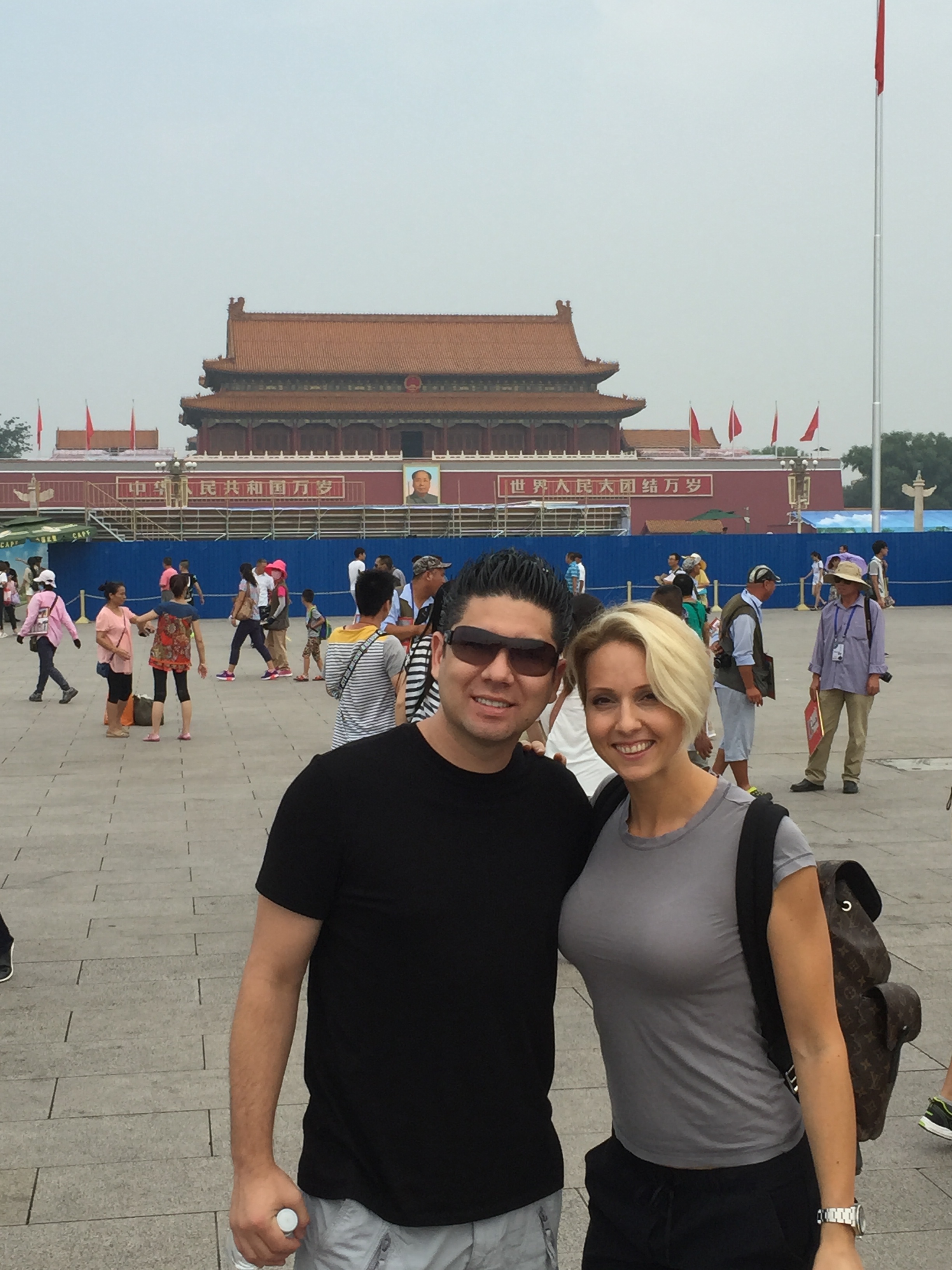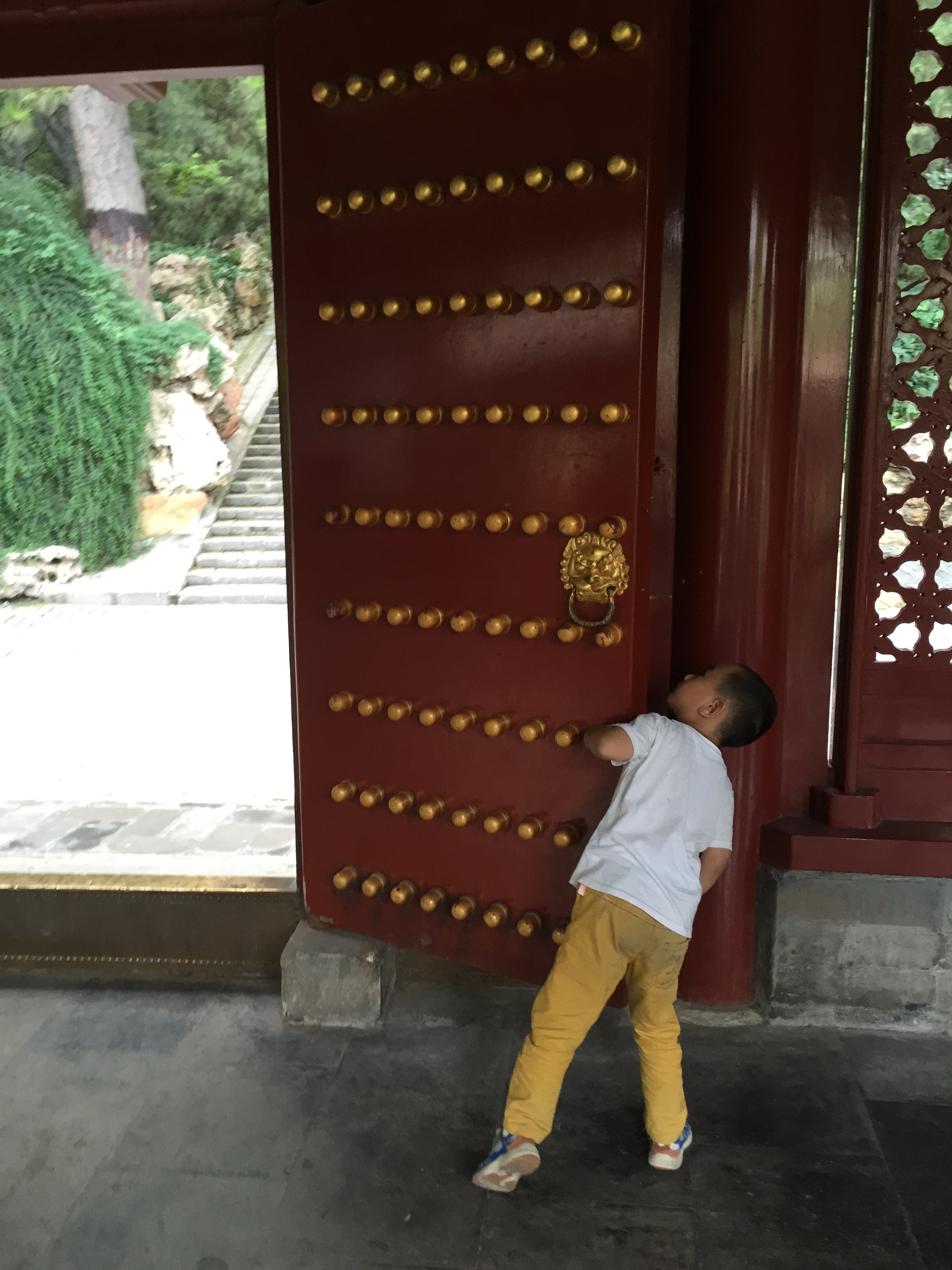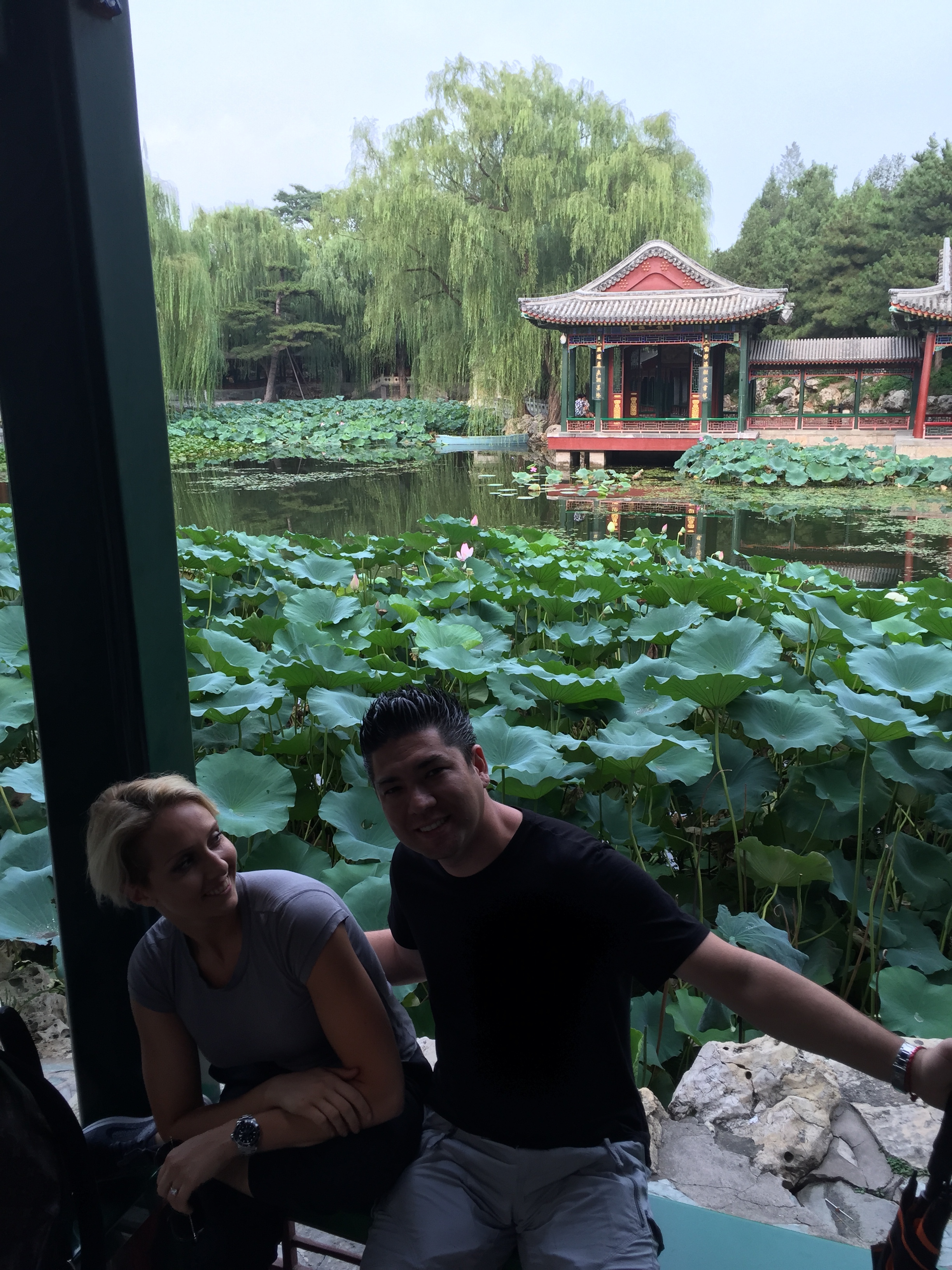 OUR ITINERARY
Day 1 Hong Kong layover (read about the layover here)
Day 2 Arrived in Beijing Ritz Carlton (took worlds most amazing shower & slept)

Day 3 Beijing's main imperial-era and iconic/ historic attractions.
We started the morning with a long walk through Tiananmen Square, which is home to China's Parliament – The Great Hall of the People.
We took a walk through The Gate of Heavenly Peace from where Mao declared China as the People's Republic in 1949. Then we visited The Forbidden City, the former home to many of China's Emperors.
Had a local lunch of various foods from a street stall area (eat at your own risk, and ENJOY!)
Continued to the the Imperial Summer Palace where we experienced the opulence in which the Emperors once lived. This place is extremely crowded, so come prepared to face the crowds at every corner.
That night, after a great dinner in our hotel (and a workout because the Waldorf has a great gym) we went to explore the Night Food Market which has some of the oddest local snacks (look below).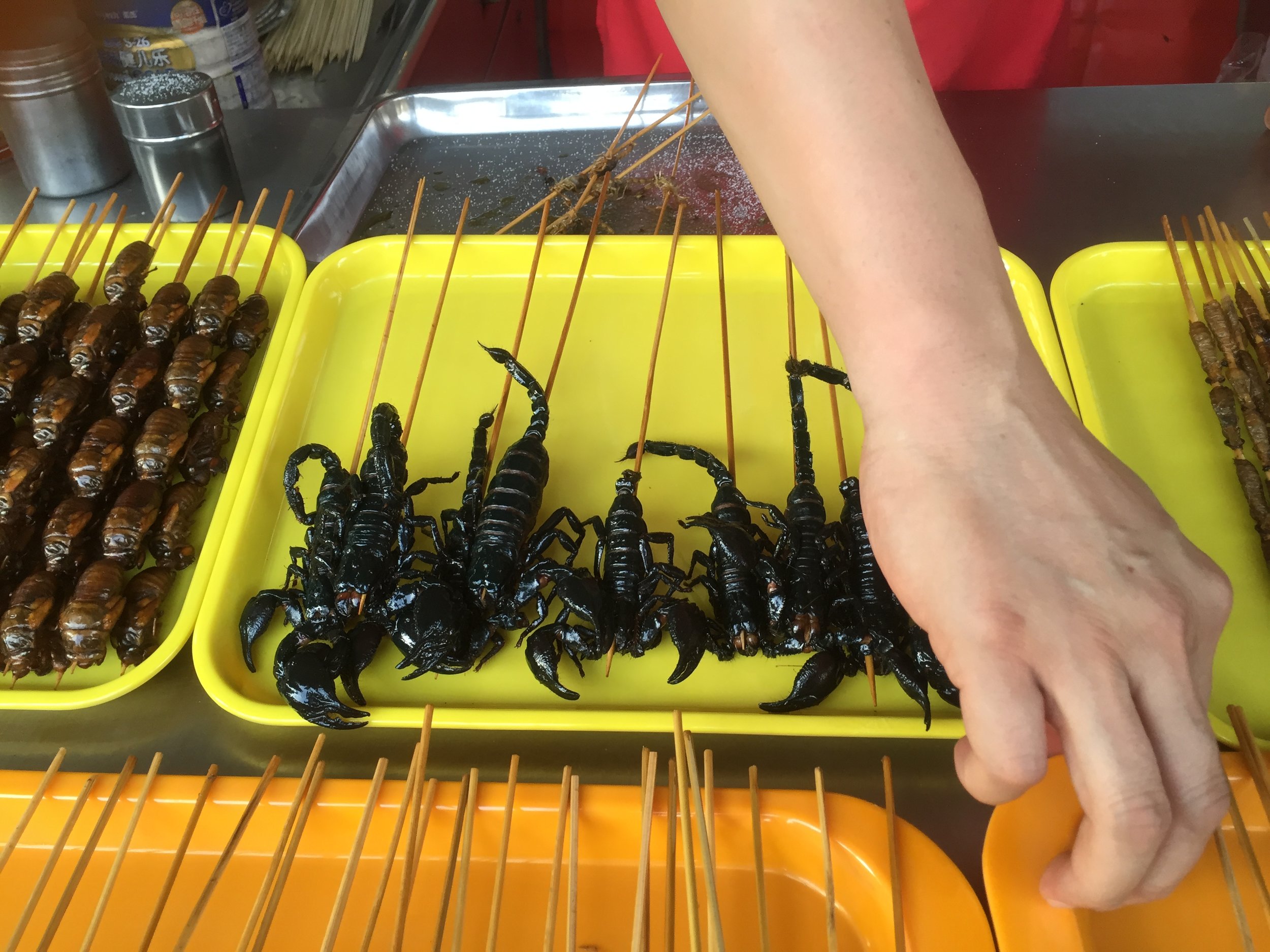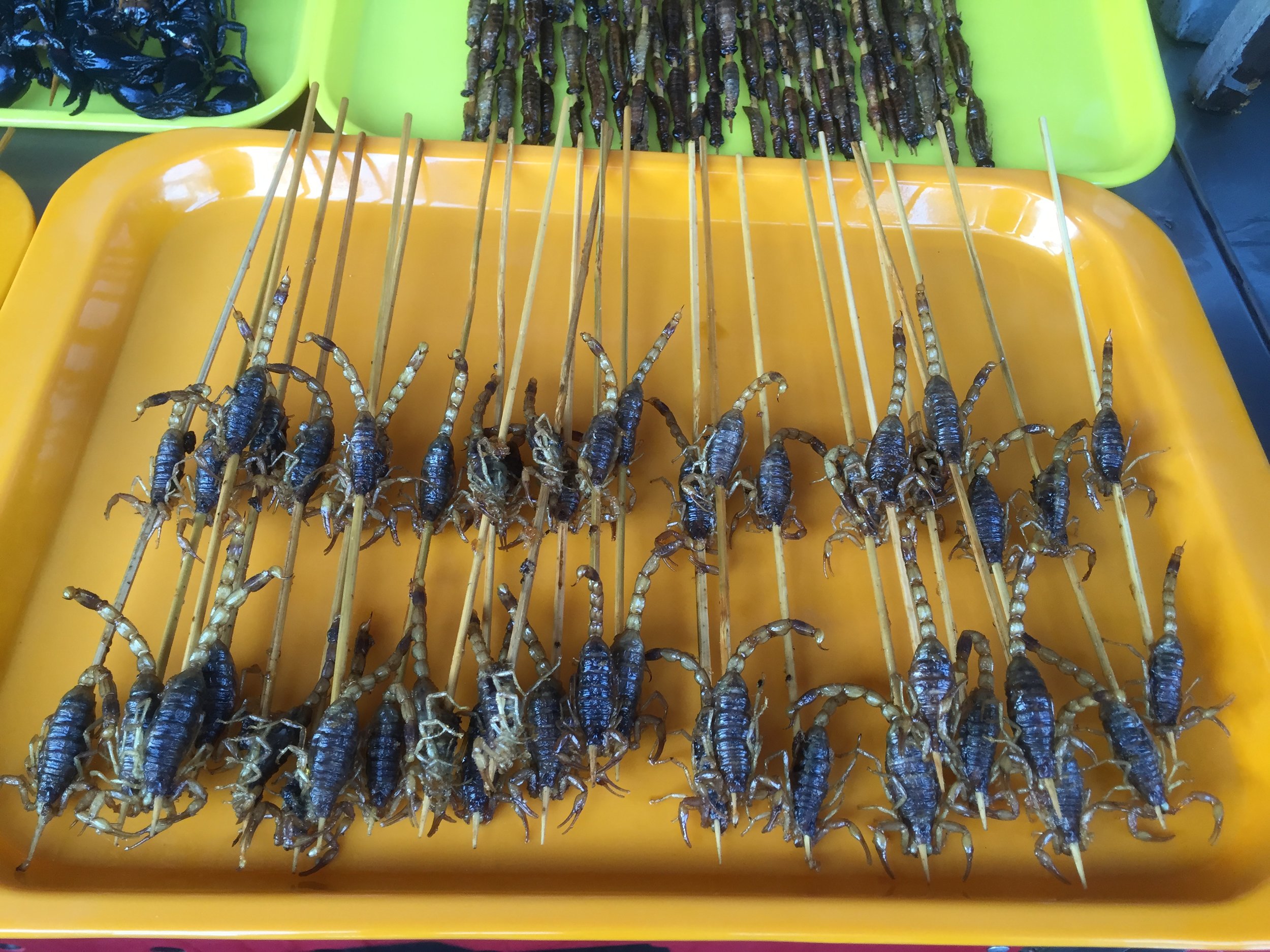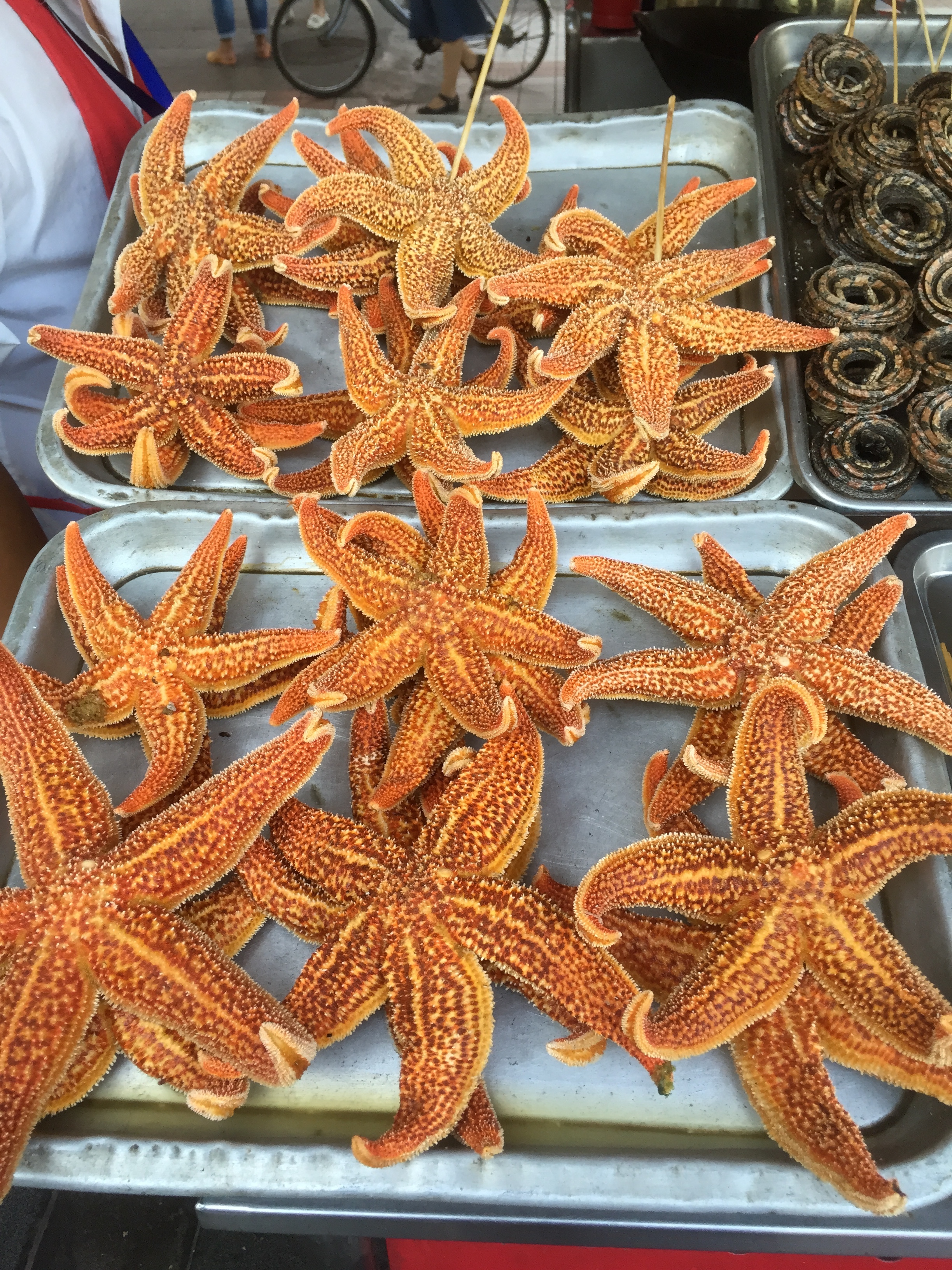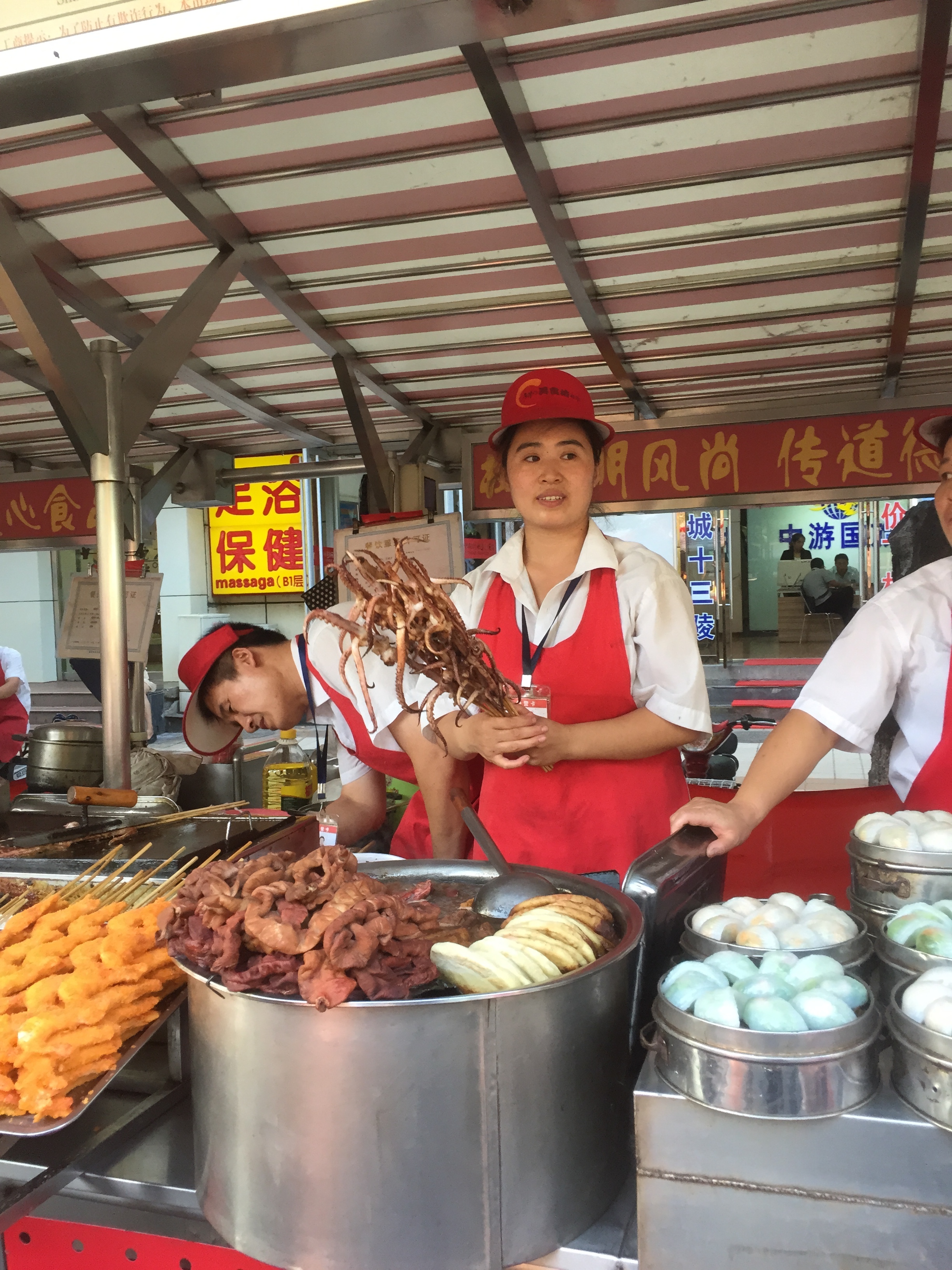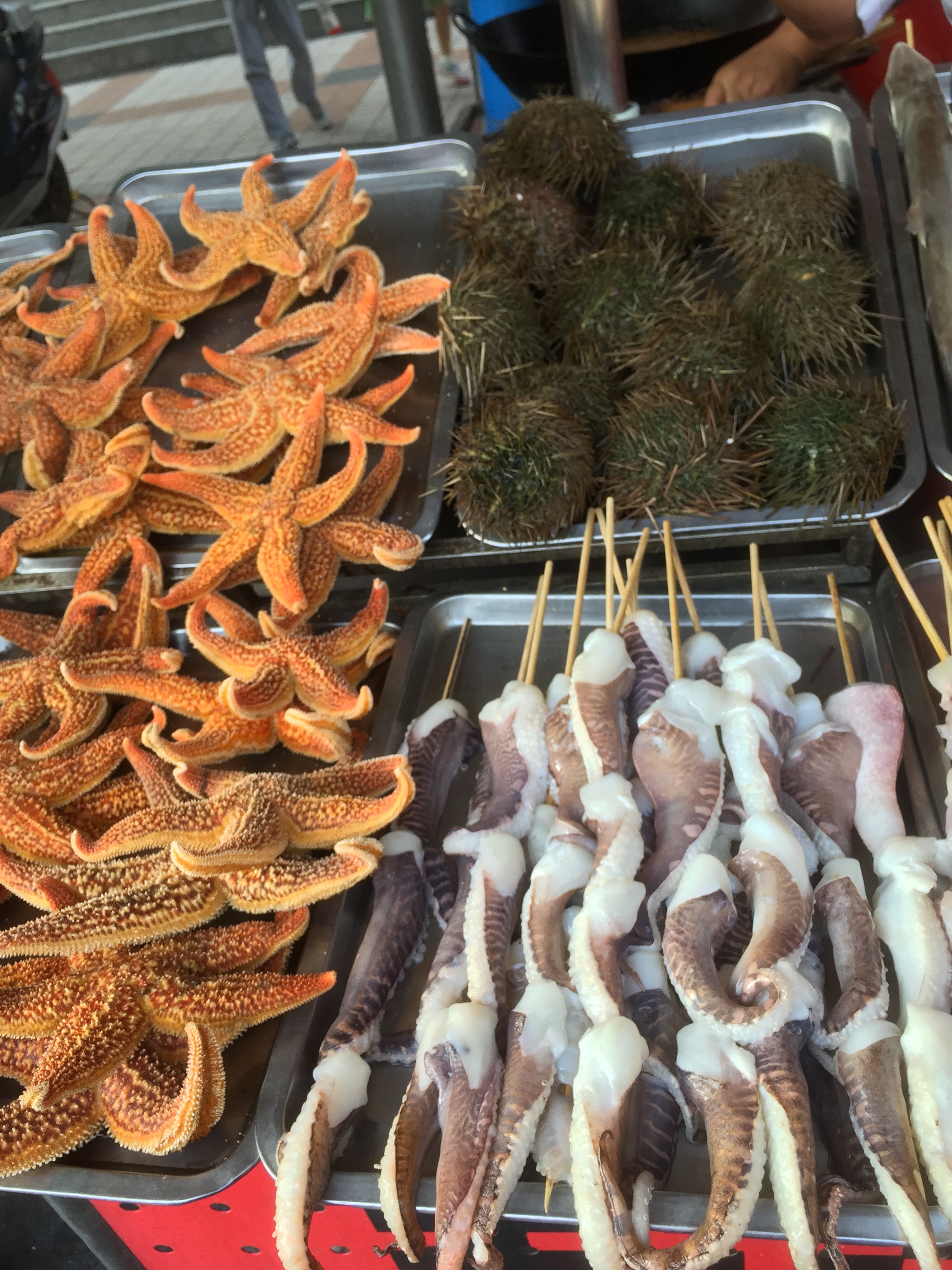 GREAT WALL OF CHINA (about 45-60 min drive from Beijing)
We enjoyed full first part of the day at The Great Wall of China.
We decided to visit the Great Wall at the relatively quieter Mutianyu section, where we had ample opportunity to explore this section of the Wall and take in the stunning views of the surrounding countryside. (Please note when I say quite, I do not mean empty, there were still plenty of people here)
After the wall we visited the Mutianyu village,and took time to explore the nearby villages and countryside before returning to our hotel and having an awesome high-tea lunch at the lobby bar.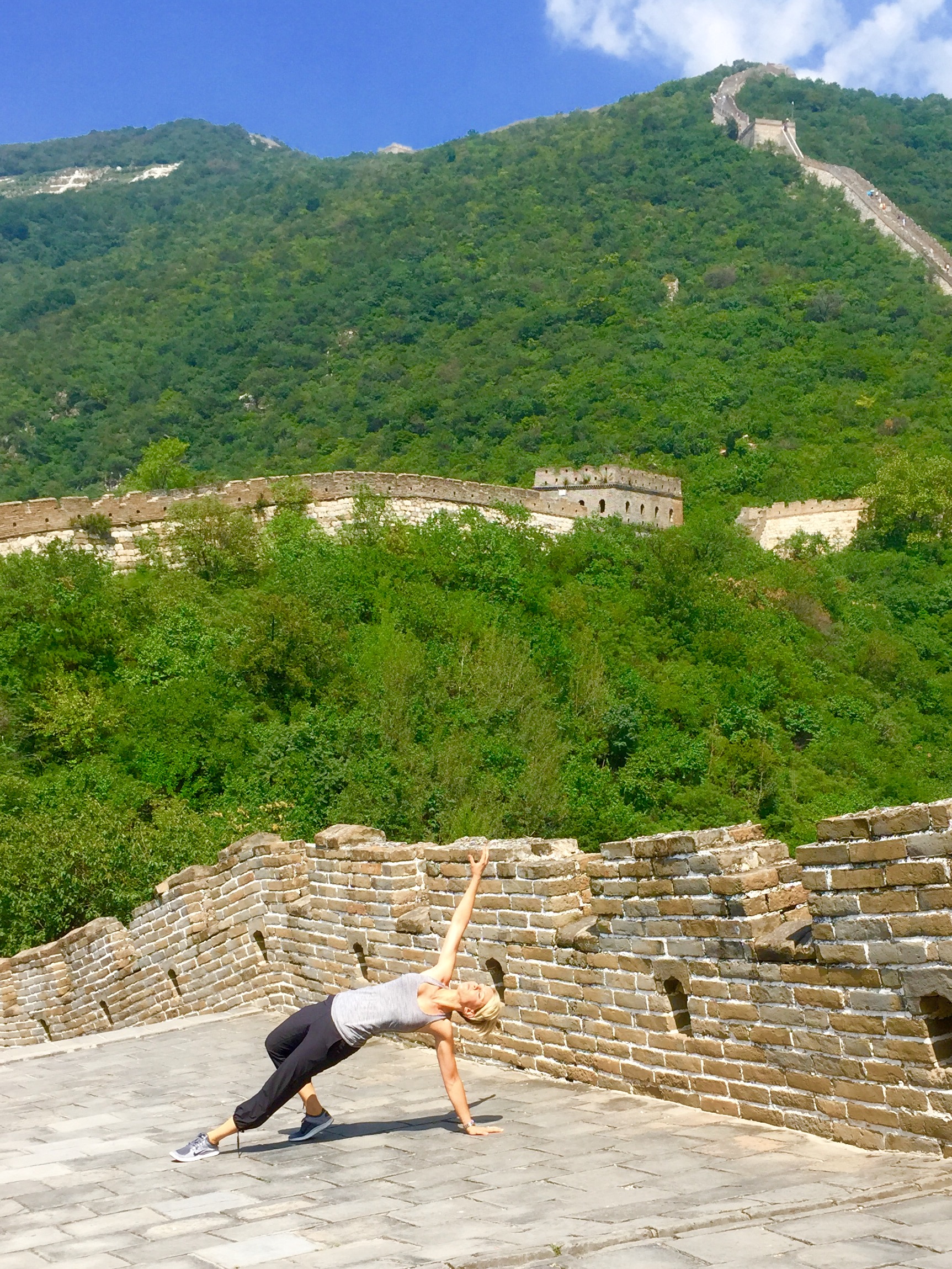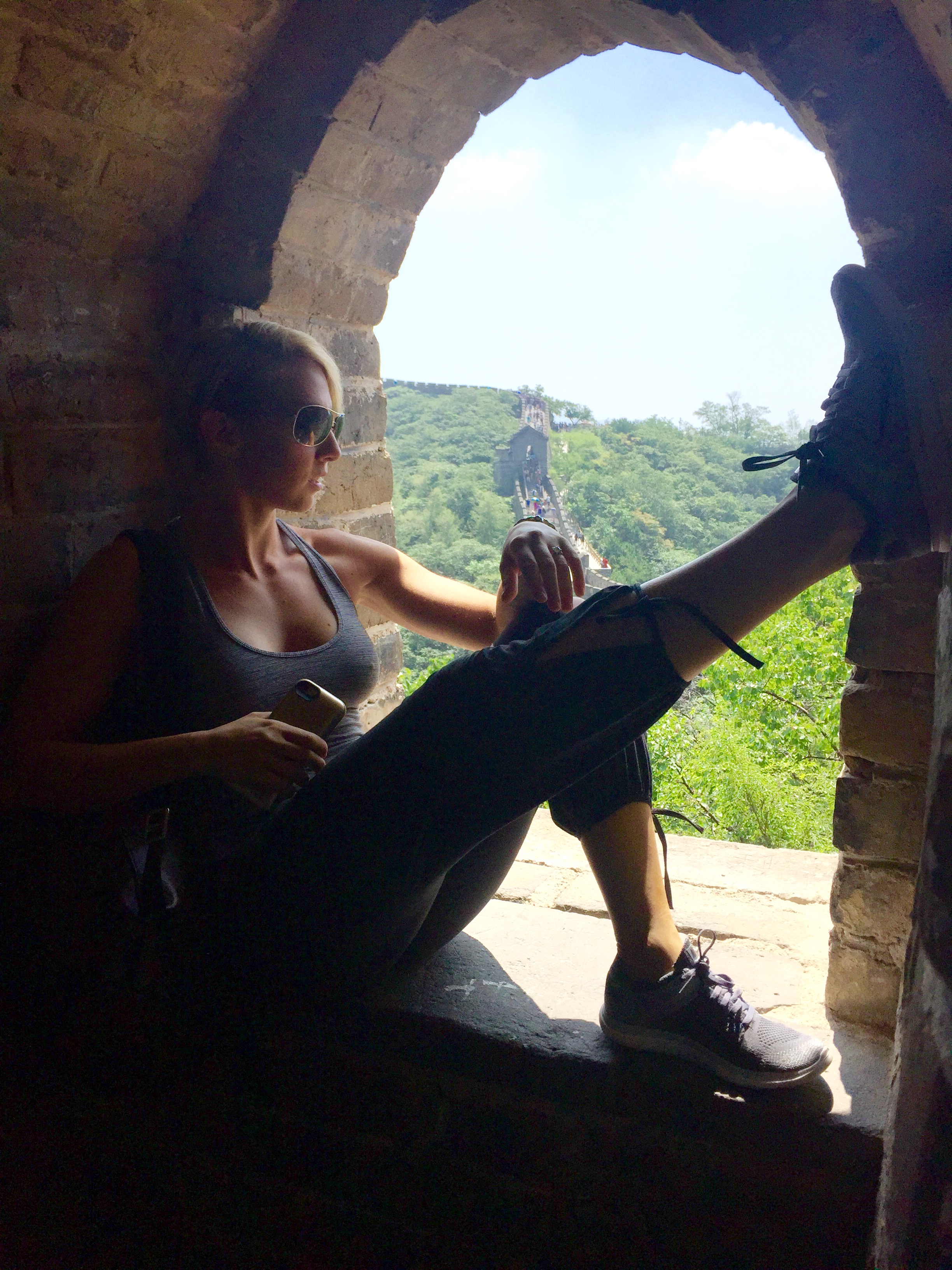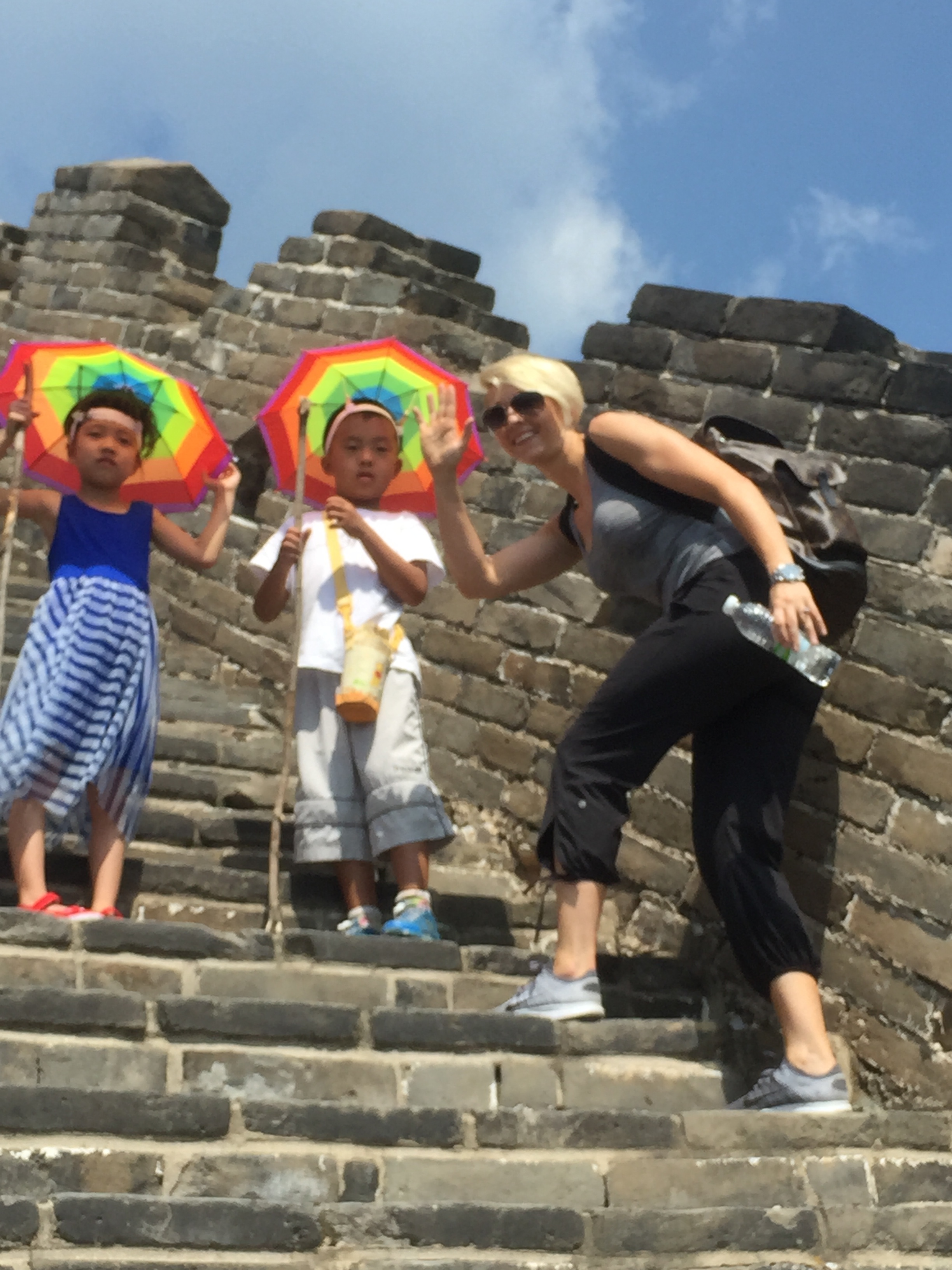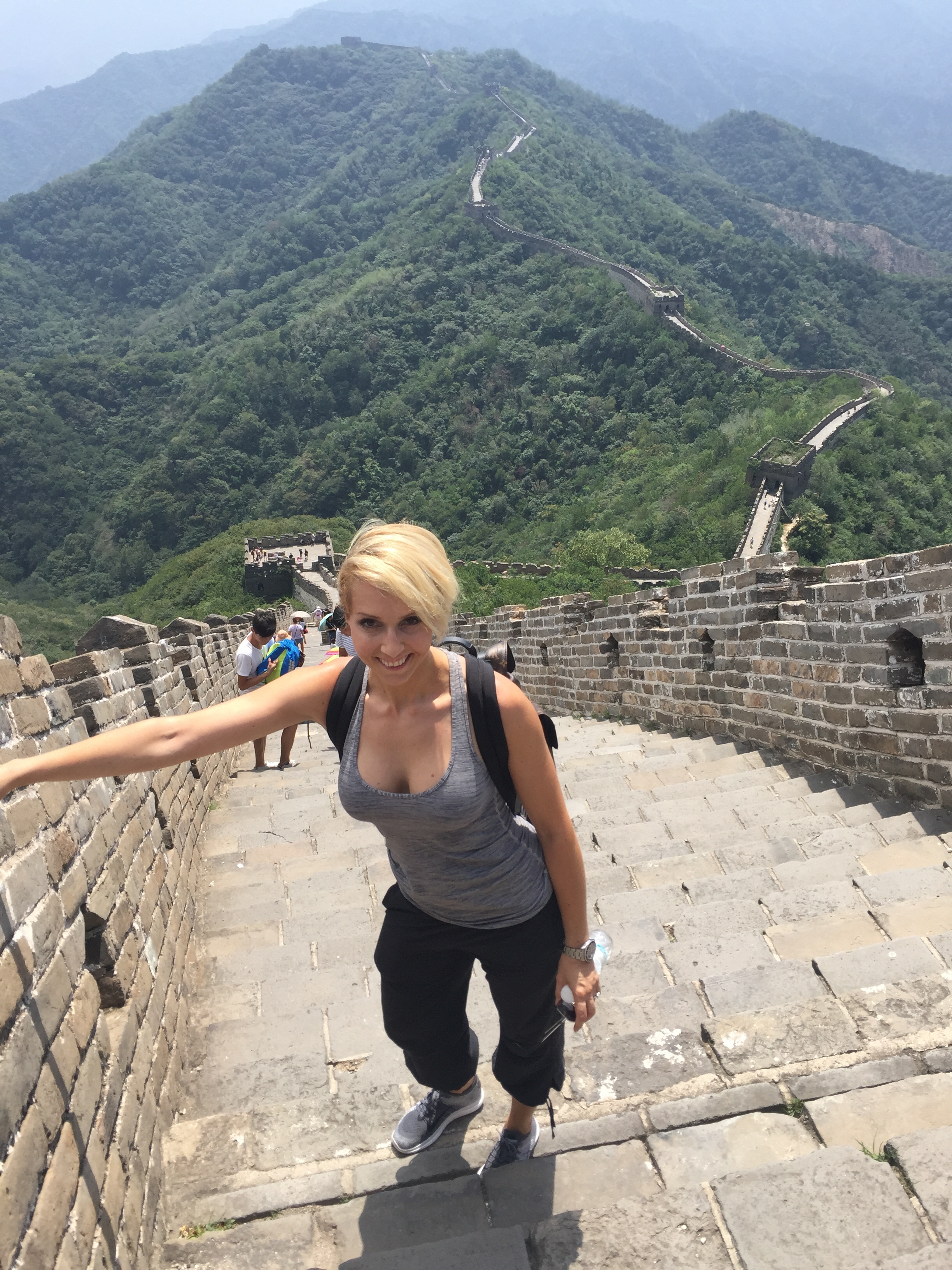 Beijing to Pingyao
This morning we visited the magnificent Temple of Heaven, where the Emperors came to pray for good harvests and today it's where local residents come for morning exercises such as Tai Chi and Ballroom dancing!
Dan and I had a private class with our Tai Chi Master – she was amazing and we all trained outside, feeling a bit of the local spirit. In this incredible park (I can only compare it to Central Park in vastness, and in what it seems to mean to the city of Beijing) people of all ages train, socialize and workout outdoors. You can see large groups of men and women practicing long sword, playing sports and taking a dance class underneath the trees. THE TEMPLE of HEAVEN WAS MY FAVORITE place in this massive city.
Later this morning, we visit the Hutongs, the small lanes and former courtyard houses of an Old Beijing. This is a great place to go, but it was a far smaller area then I thought. In reality I got much more culture out of our morning visit to Temple of Heaven, however if you have time do vista this ancient area of the city. We actually took a traditional pedi-cab and visited a local home getting a fascinating insight into the daily lives of local families. Generally any local guide can arrange a home visit and it is well worth your time.
Later in the day we transferred to the train station for a high-speed train to Taiyuan. On arrival into Taiyuan, we met a hired driver (you should arrange this in advance) who drove us to to Pingyao which is about a 1.5 hour drive away from the train station. We stayed at the incredible Jing's Residence (Deluxe Room) for one night. This was my favorite 5 star boutique hotel out of any trip I have taken to Asia (and that is saying a lot).
MUSTS: if you stay here, DO arrange a dinner in the hotel. Unlike other hotels the food is super local and made by the owner, who is a terrific chef.
Upon arrival we walked around the city at night, which was incredible (if you stick to the main streets it's safe and super fun), then had the best dinner I had the whole trip in the restaurant of our hotel.
---
Tai Chi at the Temple of Heaven Beijing (amongst my top three experiences on this trip) to arrange something like this, find and contact a local guide or a tour agency in advance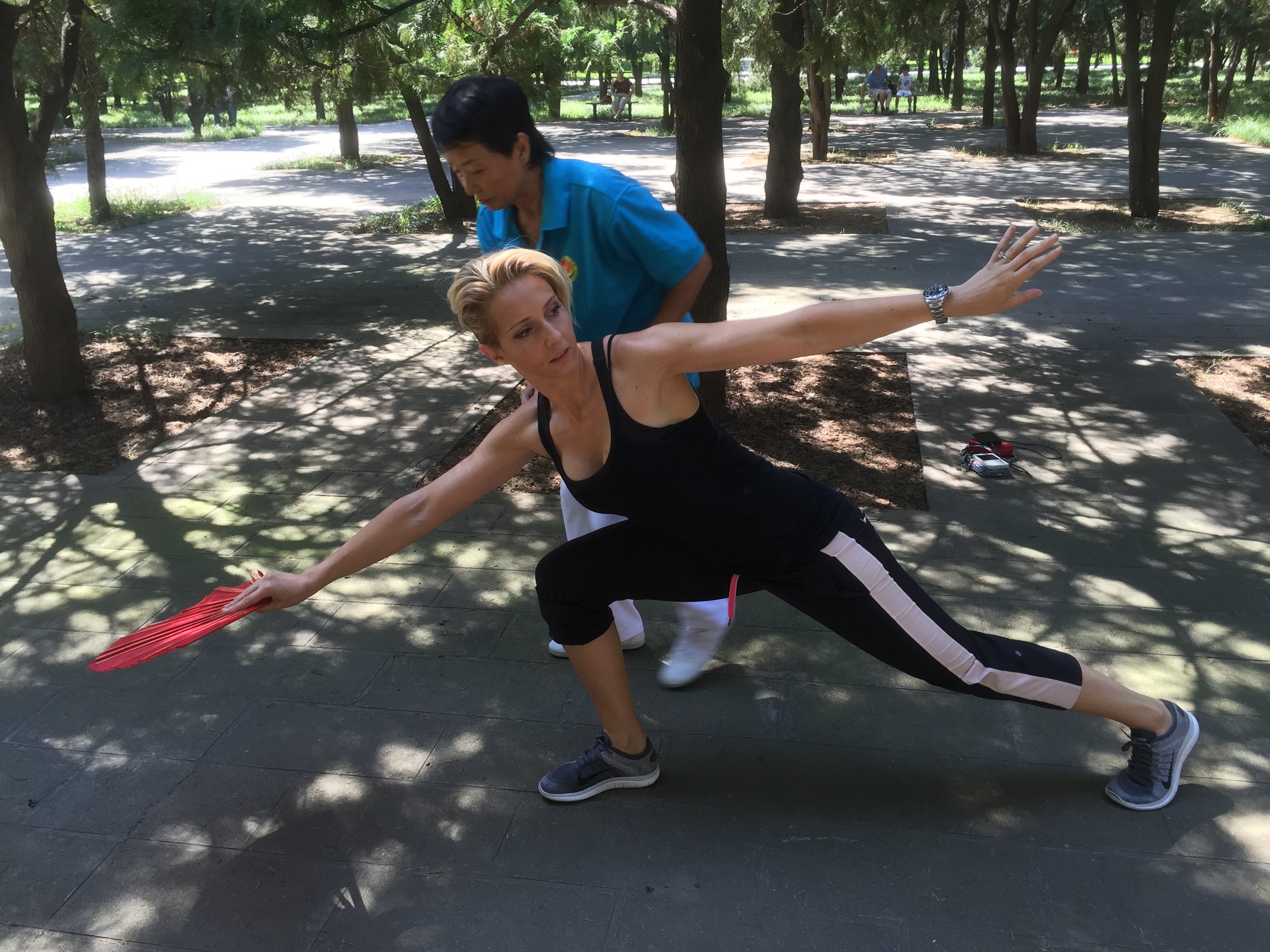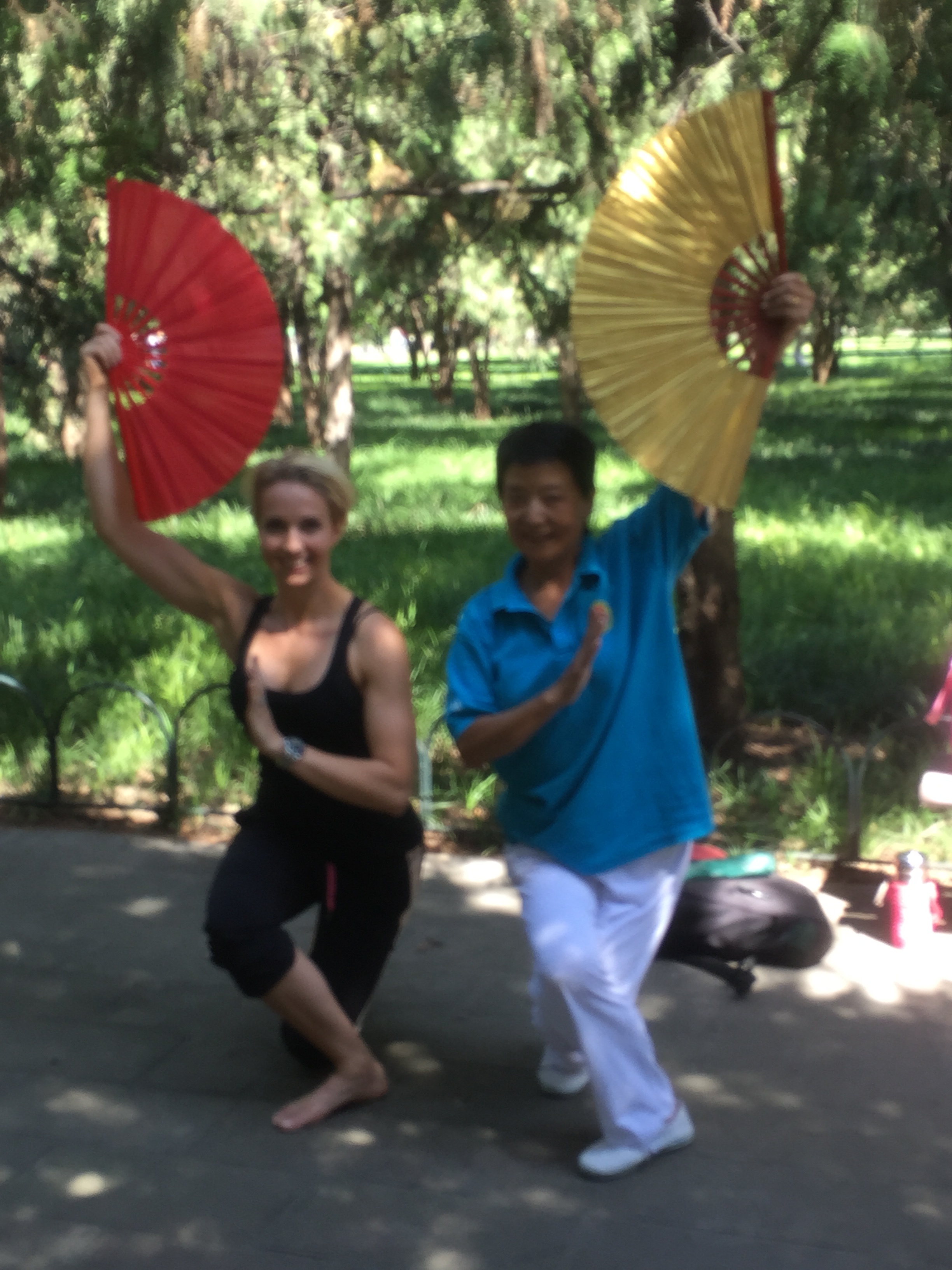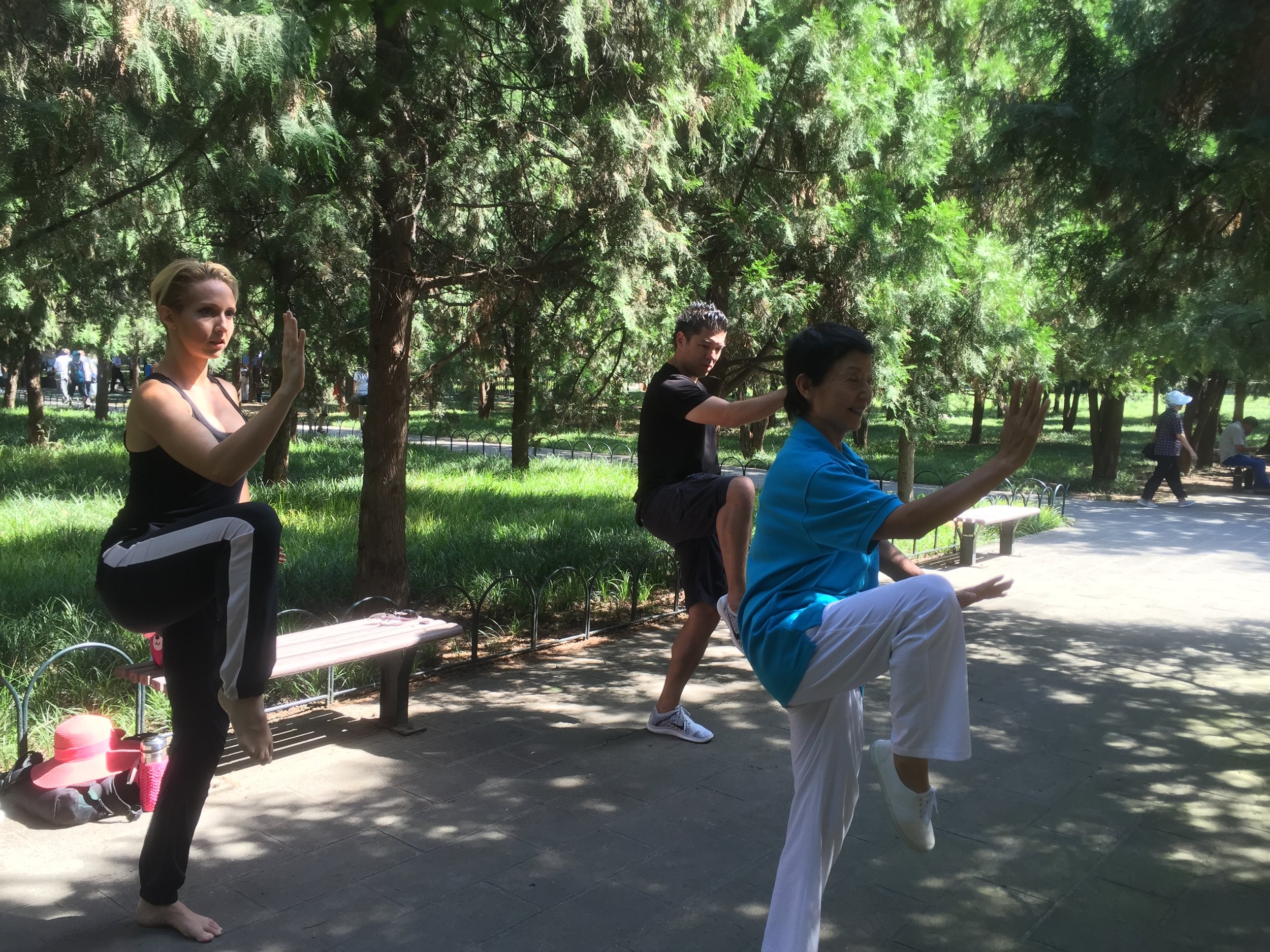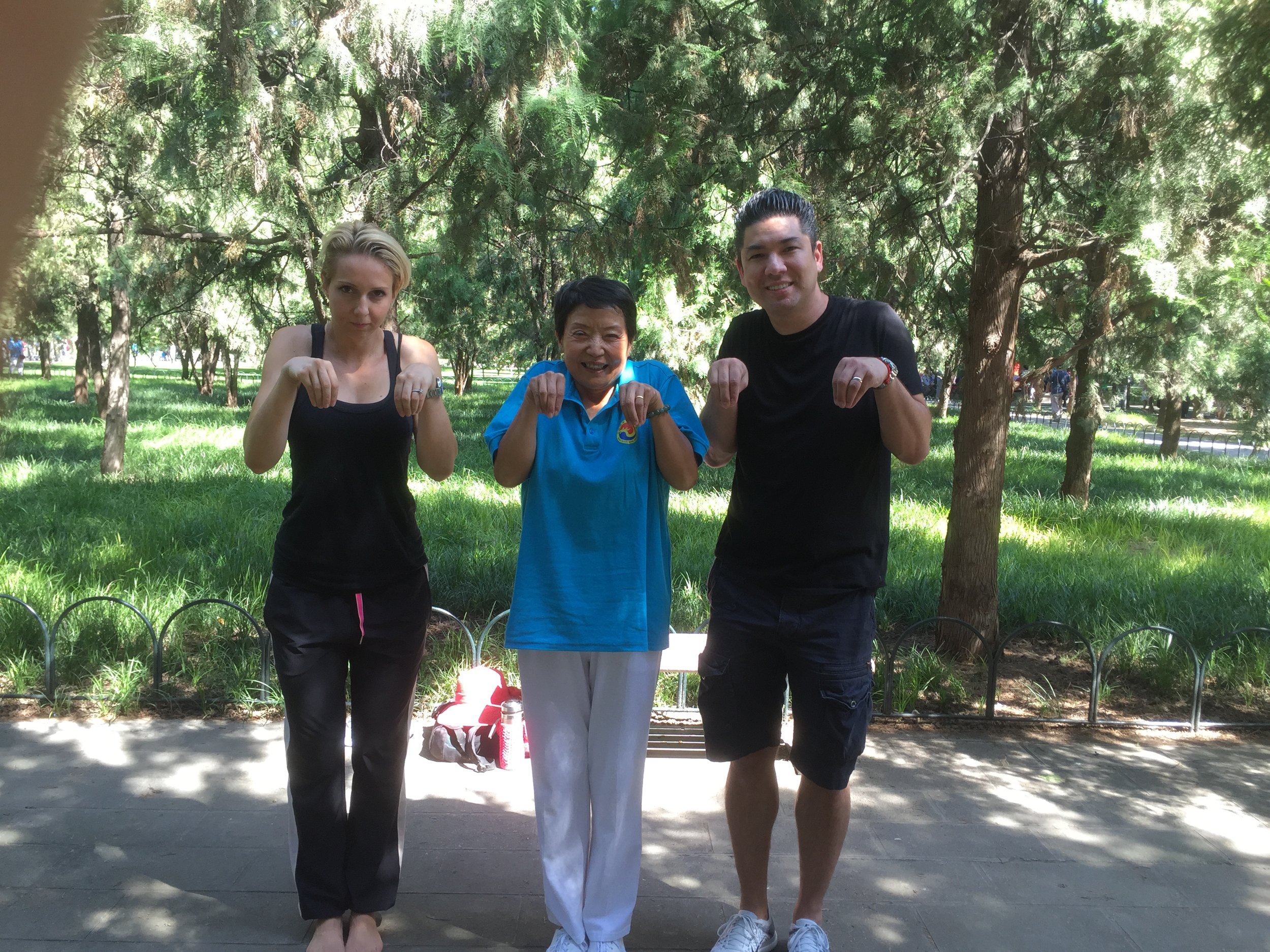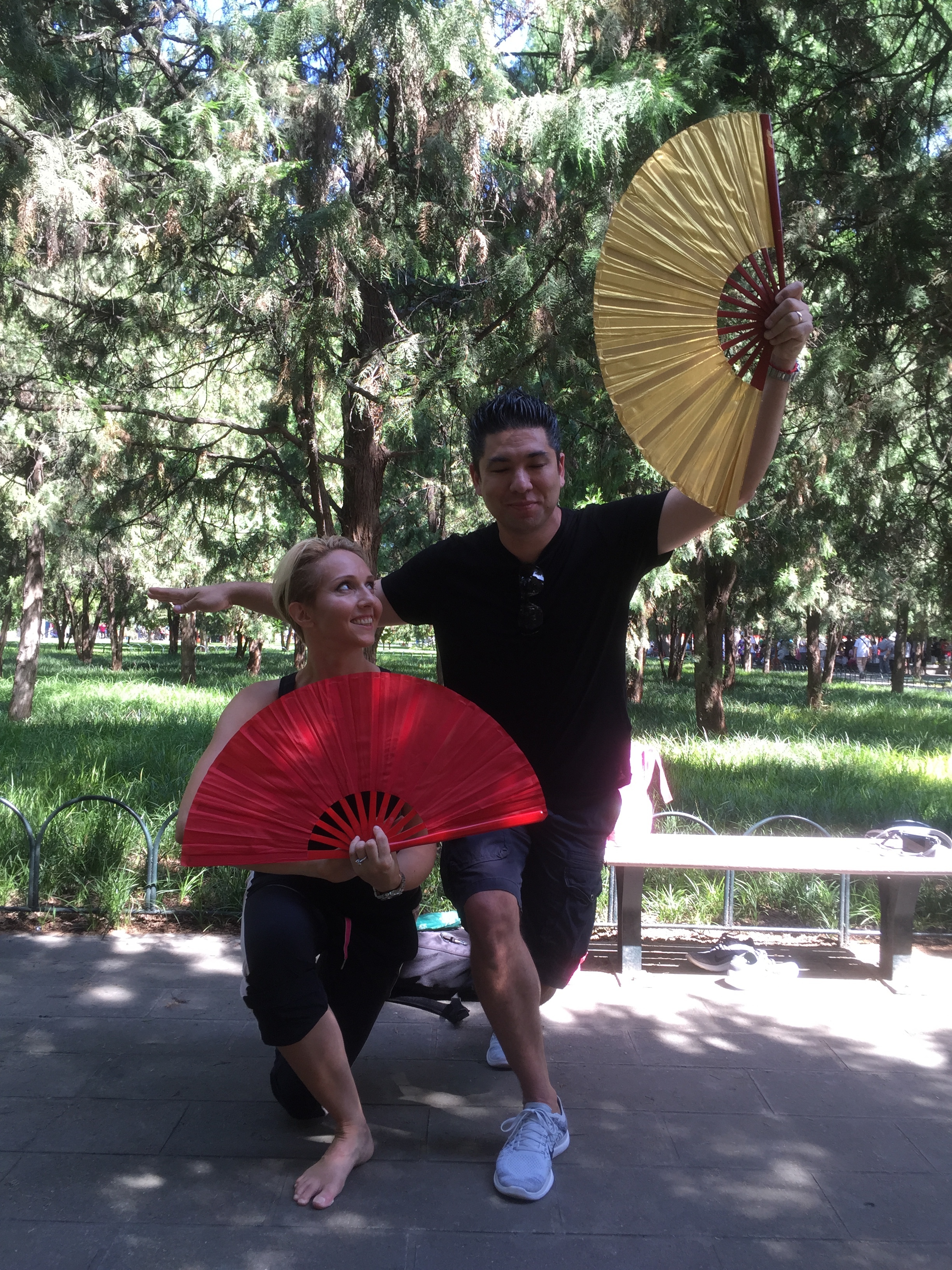 ---
This morning, we walked and explored this fascinating and well preserved Ming Dynasty walled town. Including the Ancient City Wall, the Rishengchang Draft bank, the first bank in China, and tons of local food stalls and shops. I recommend walking the Ming-Qing Street, Pingyao was the financial capital of China and has tons of antique banks and sights.
Later in the day we transferred back to Taiyuan train station where we boarded a high-speed train to Xian. We arrived late and had a taxi take us to the Sofitel on Renmin Square Hotel (Luxury Room) for your 1 night stay.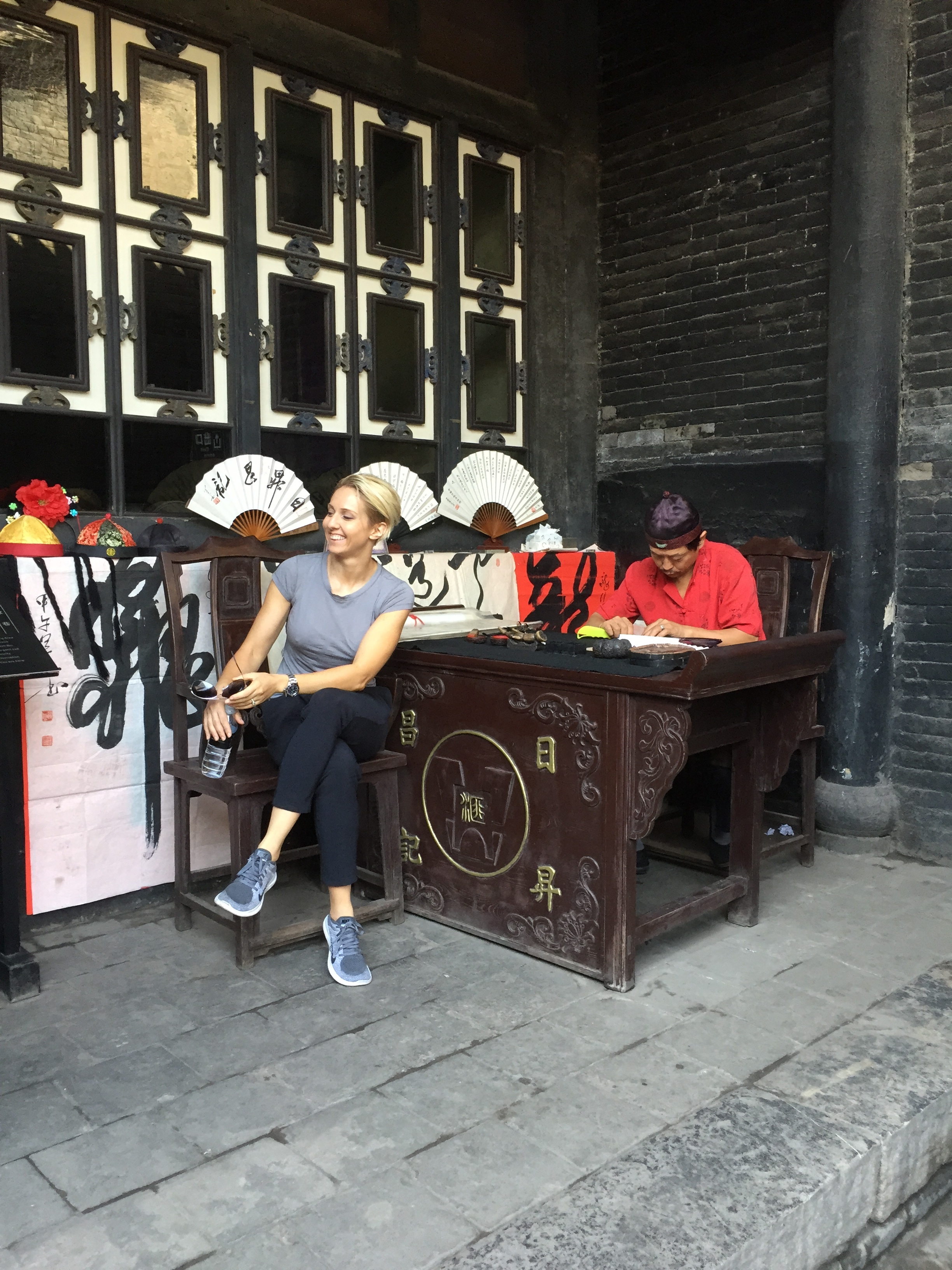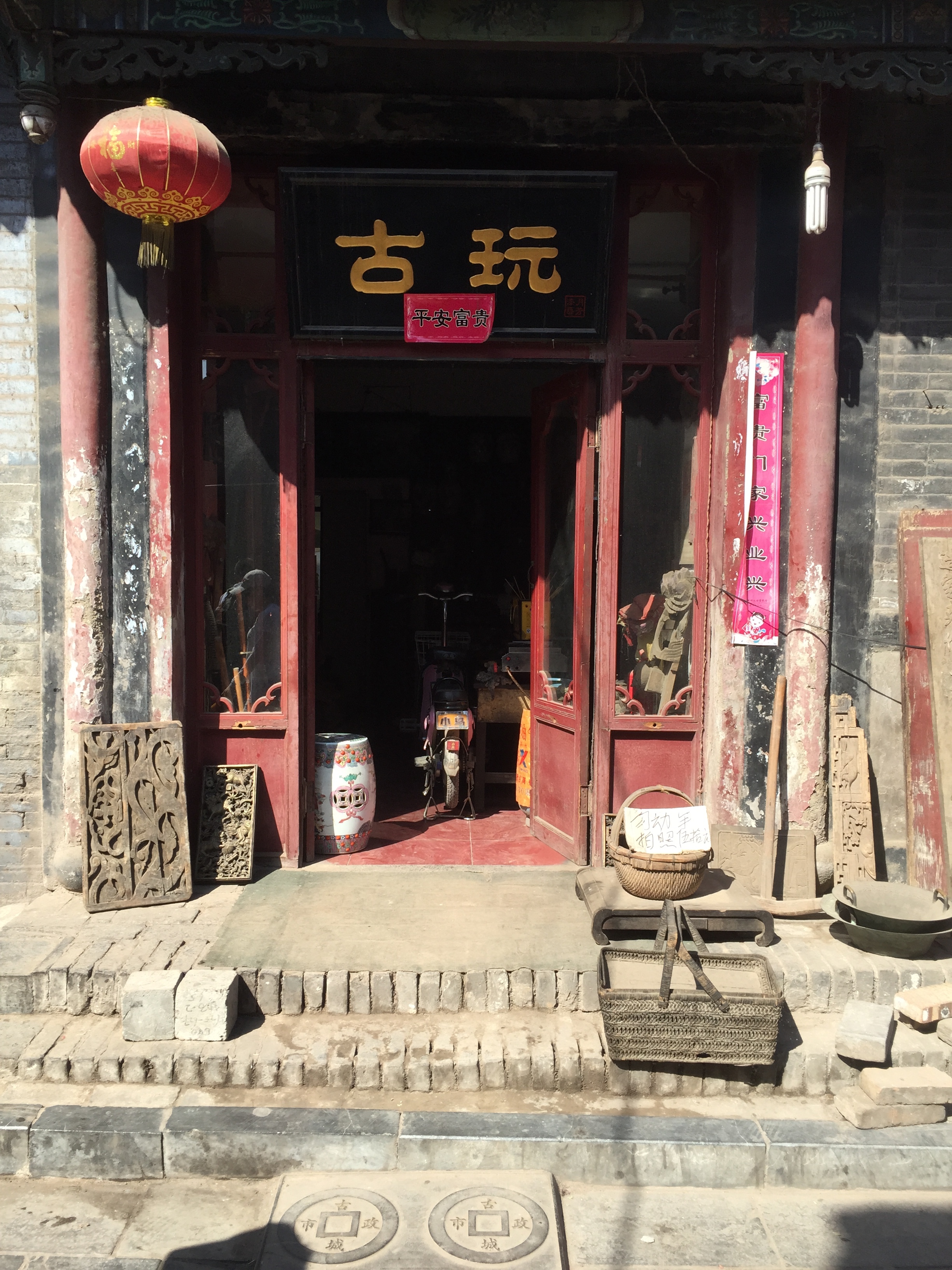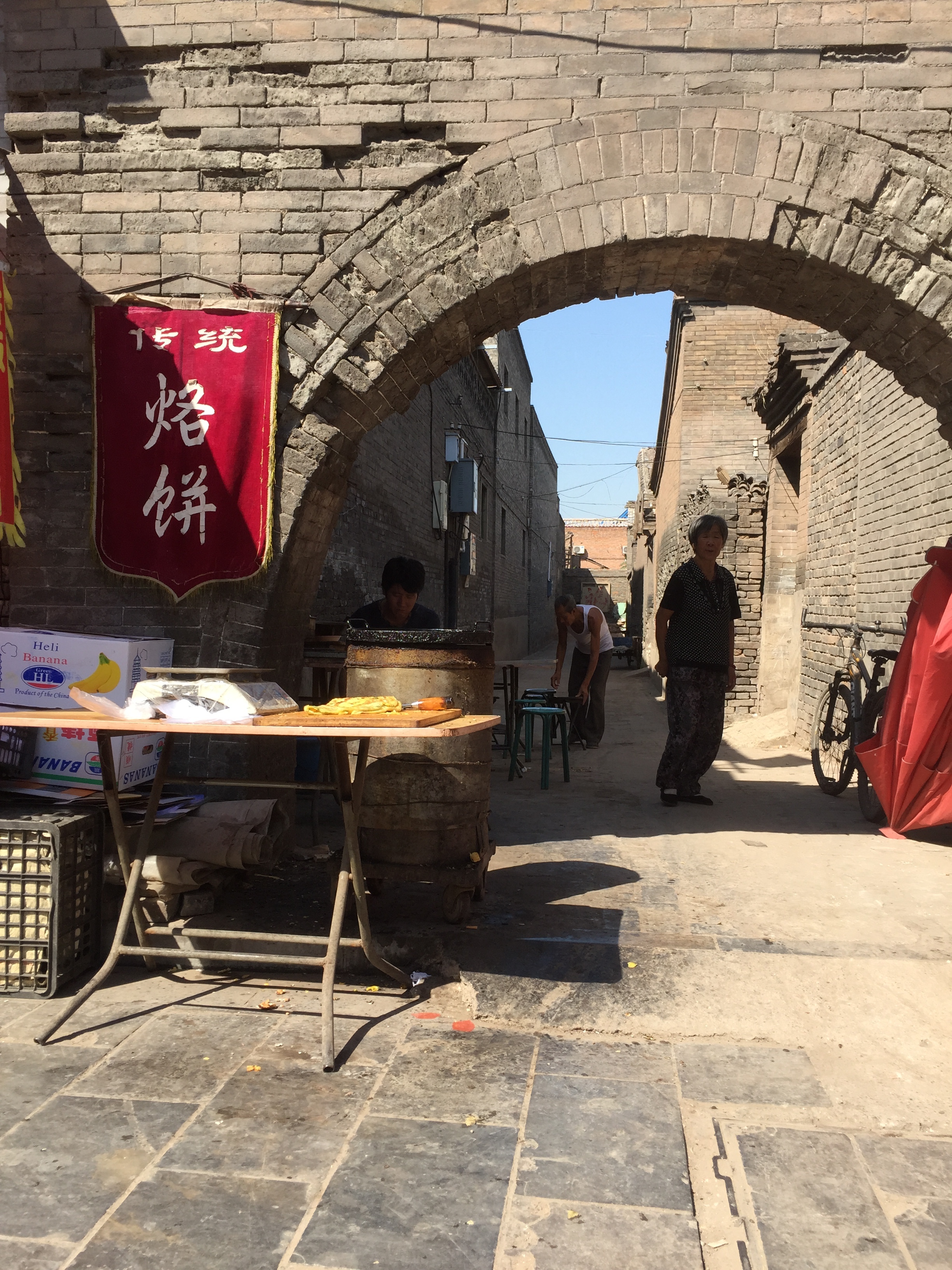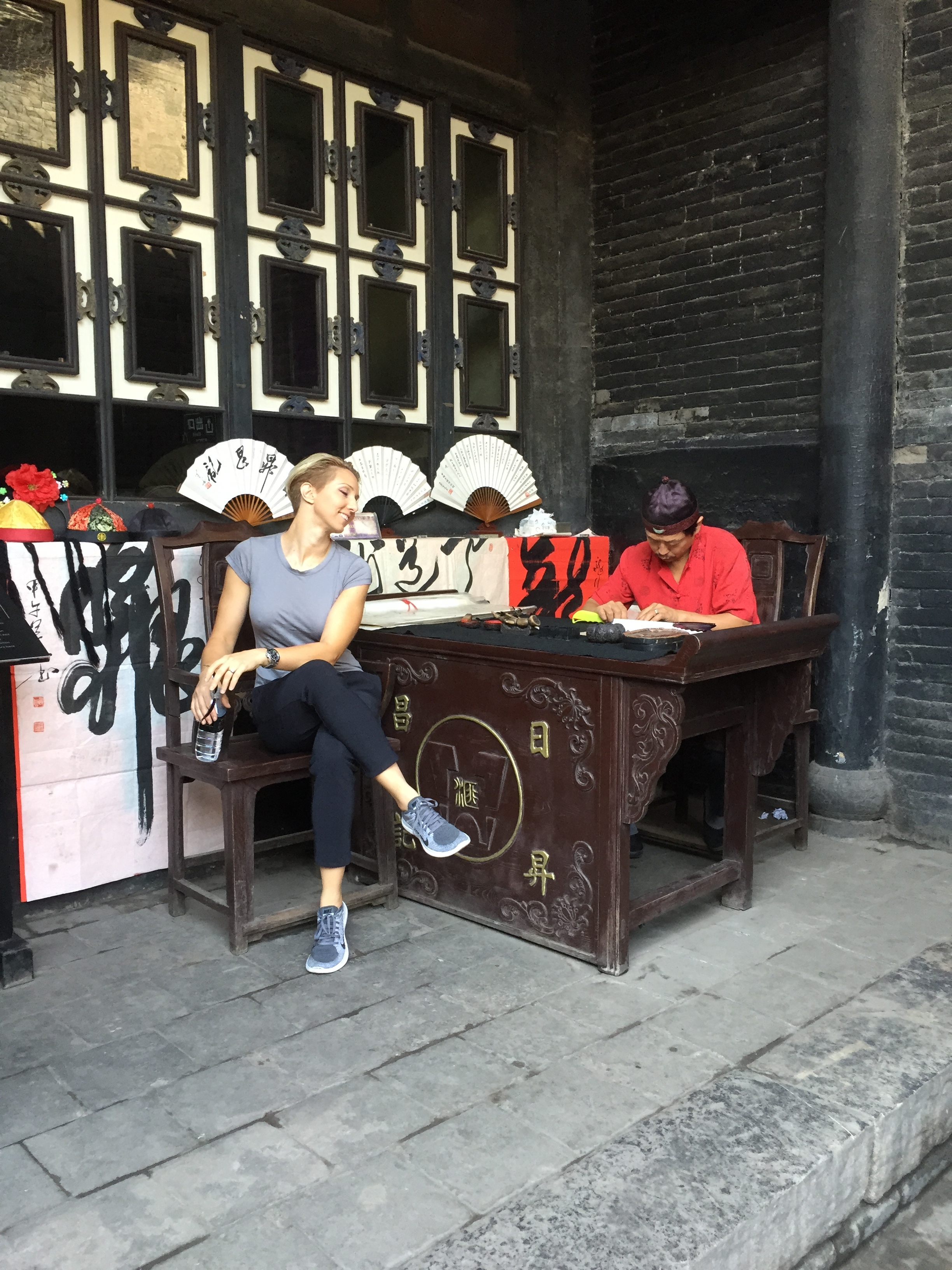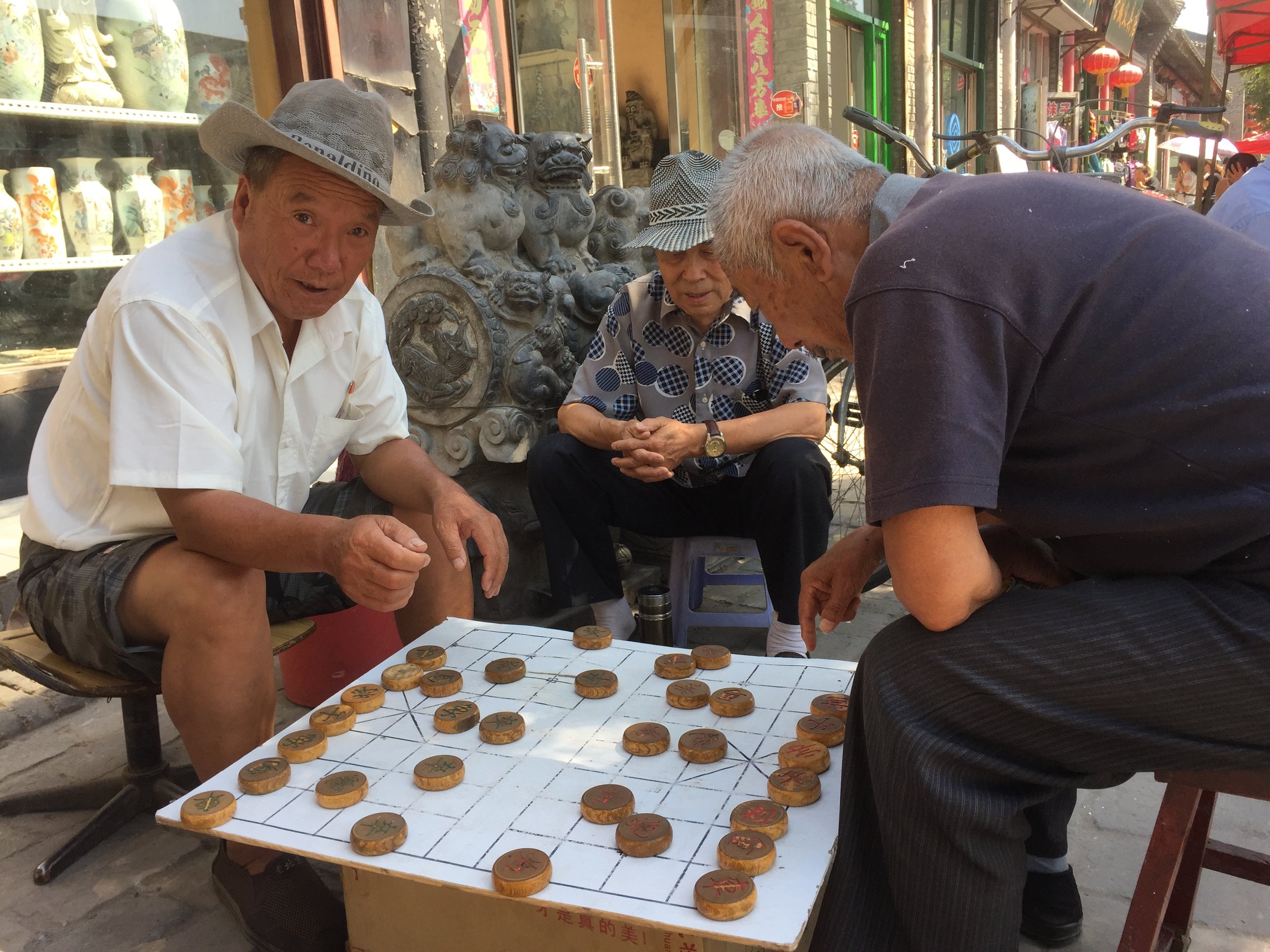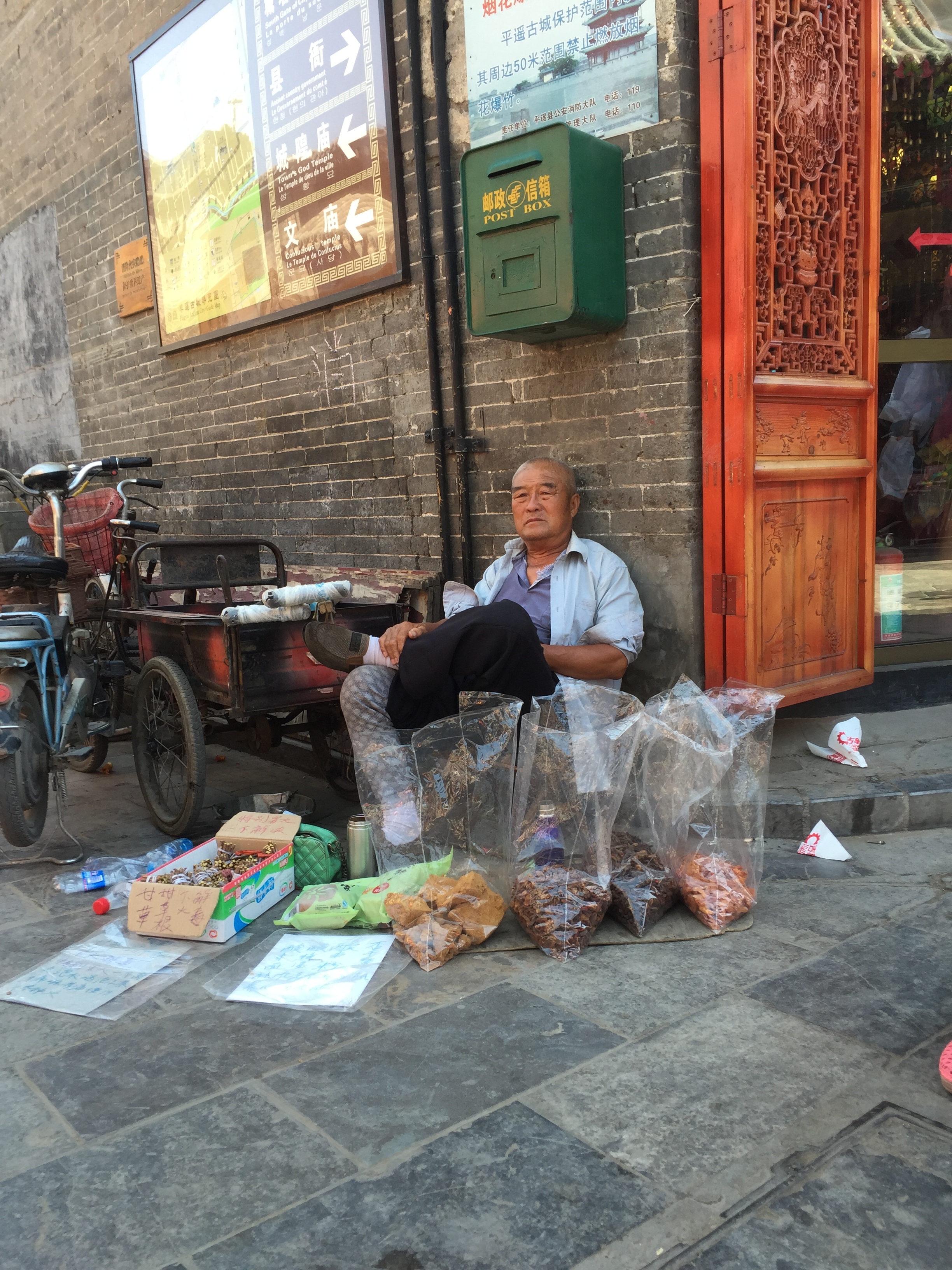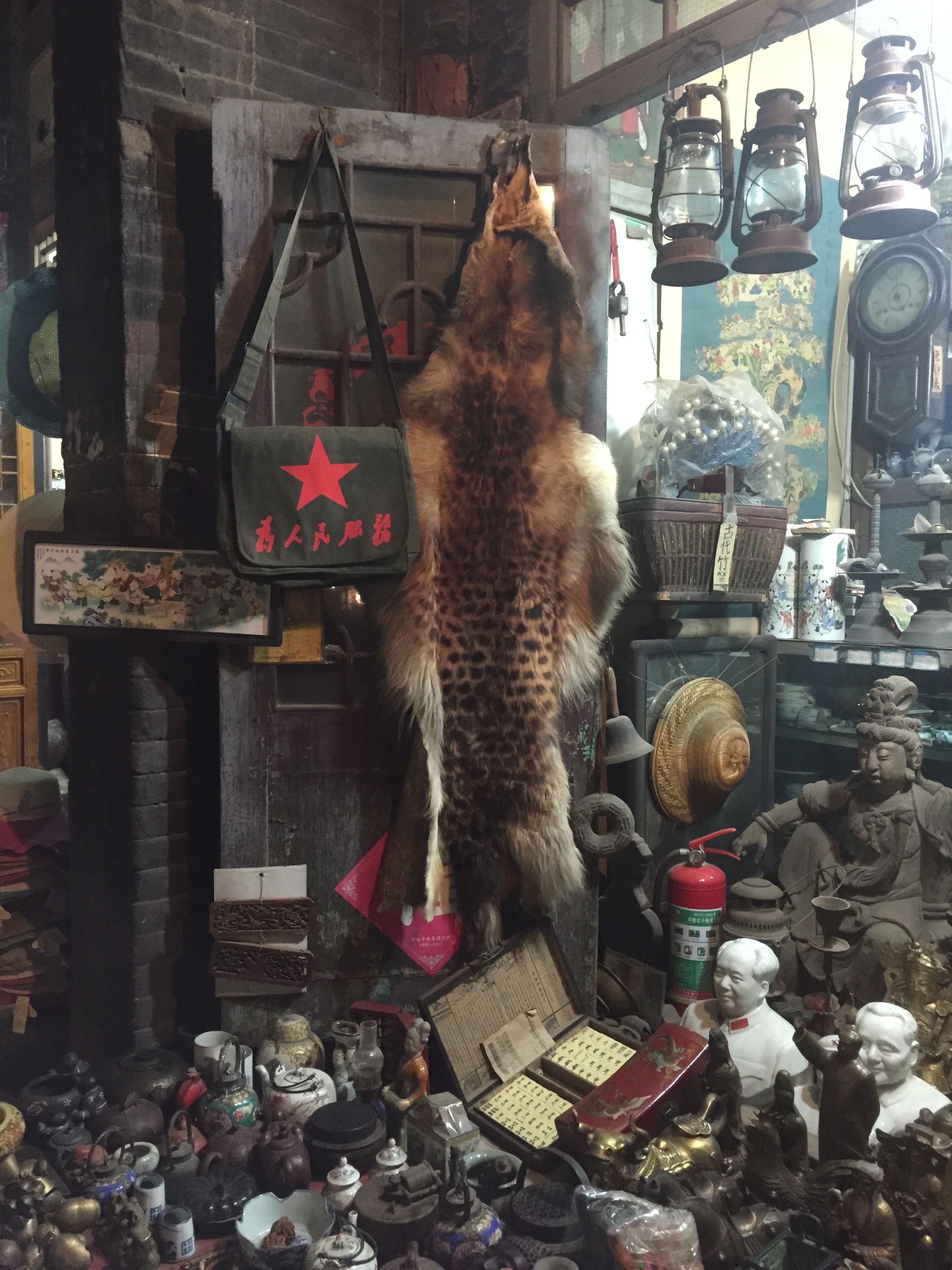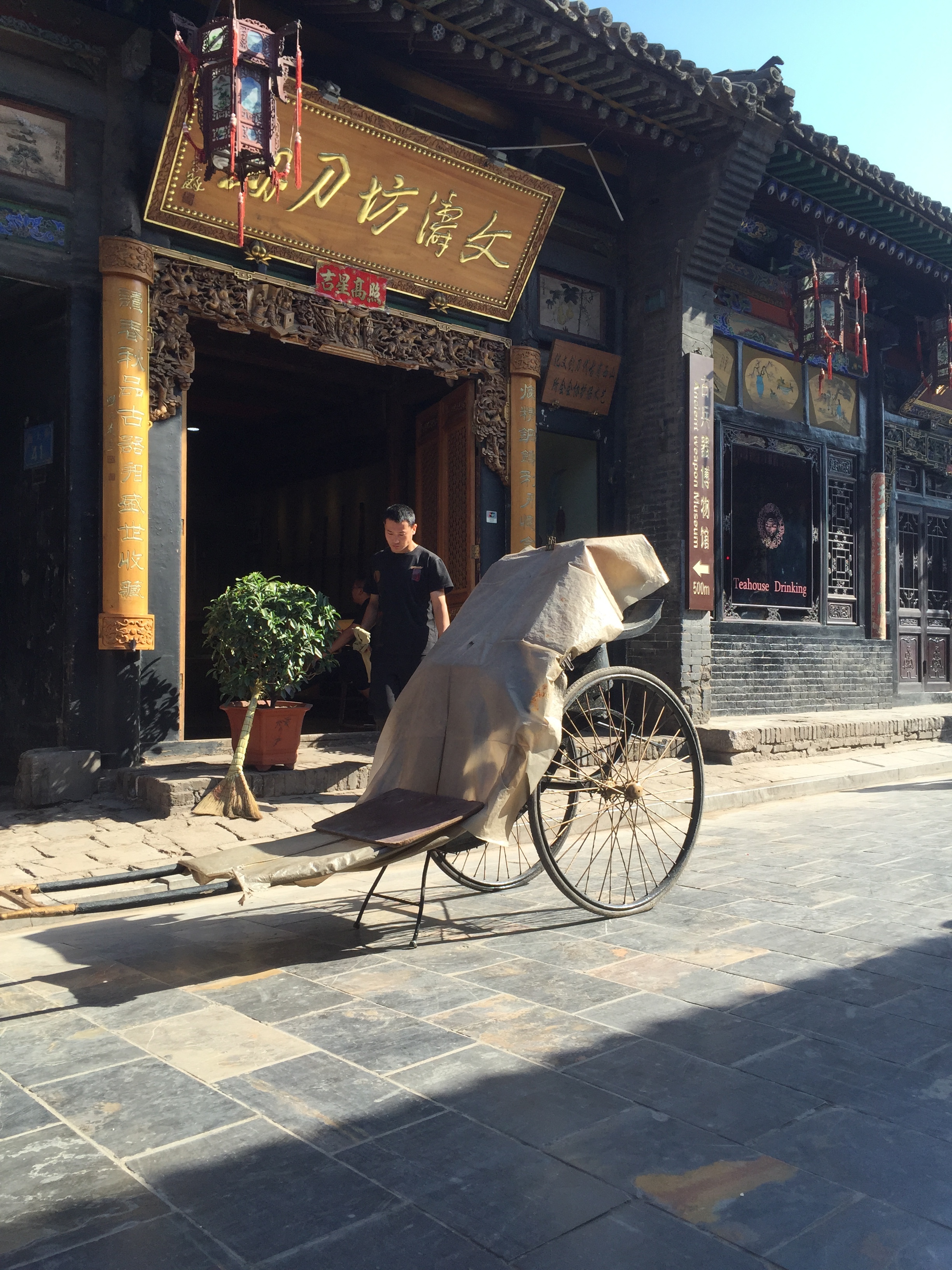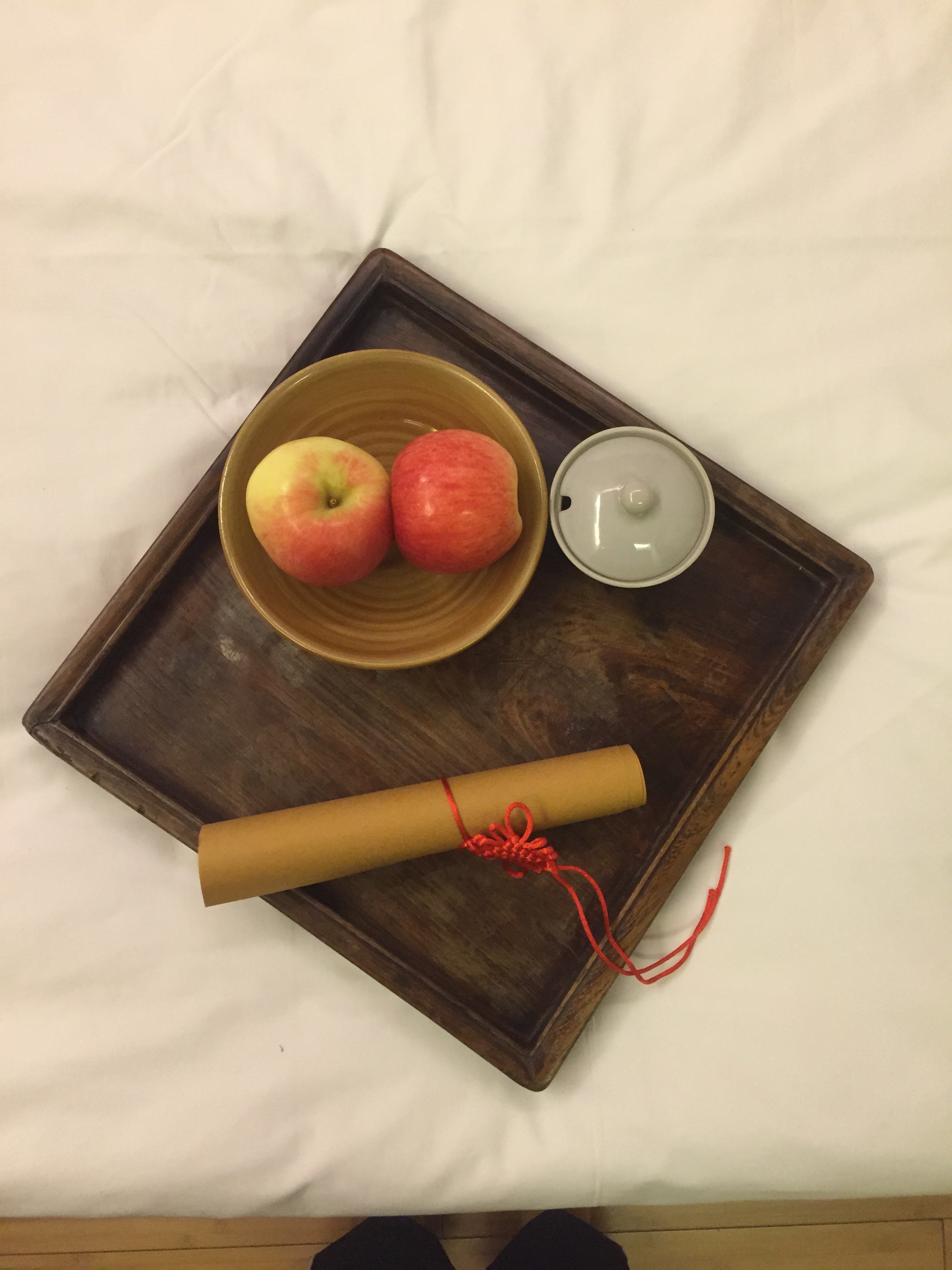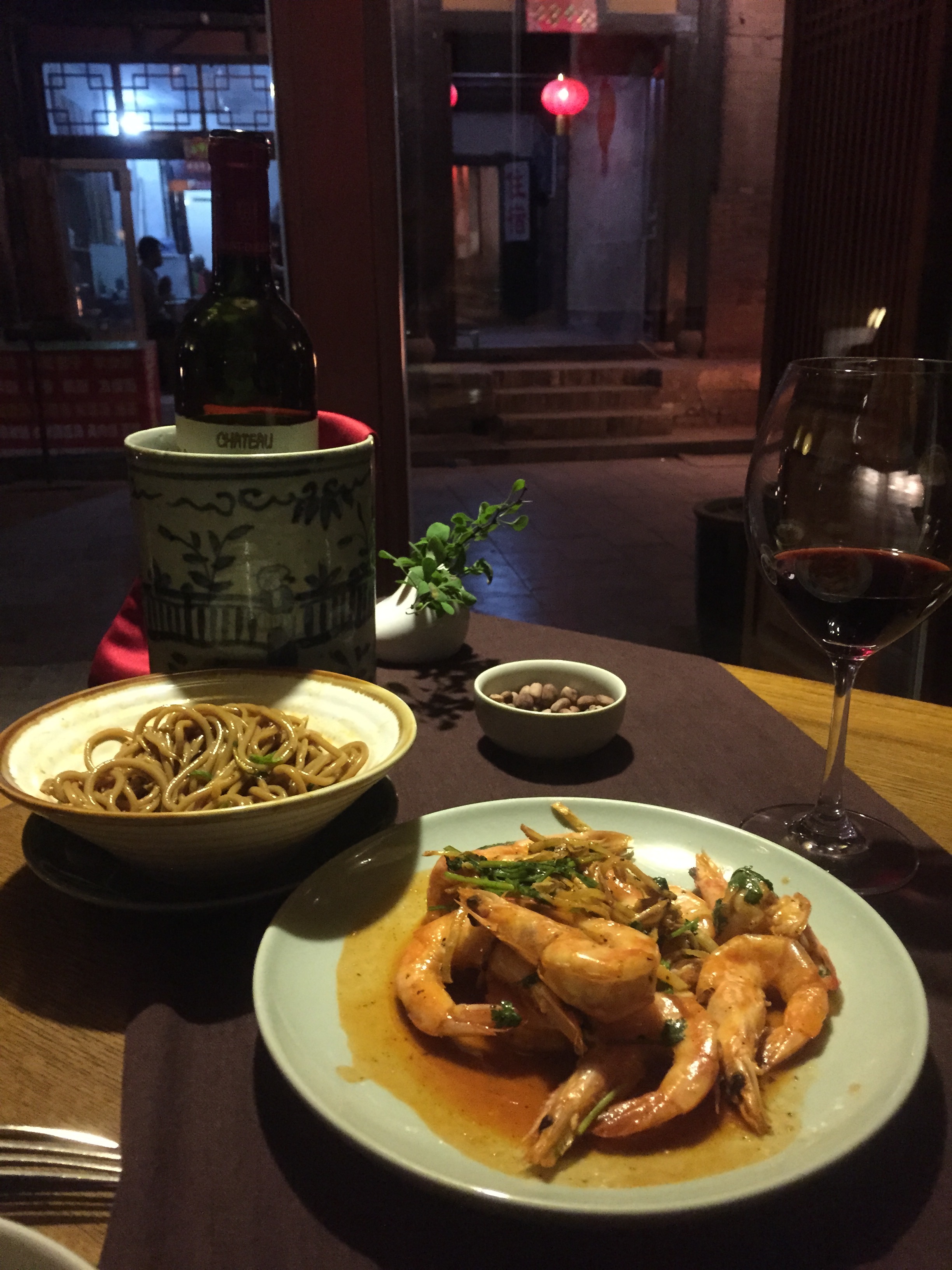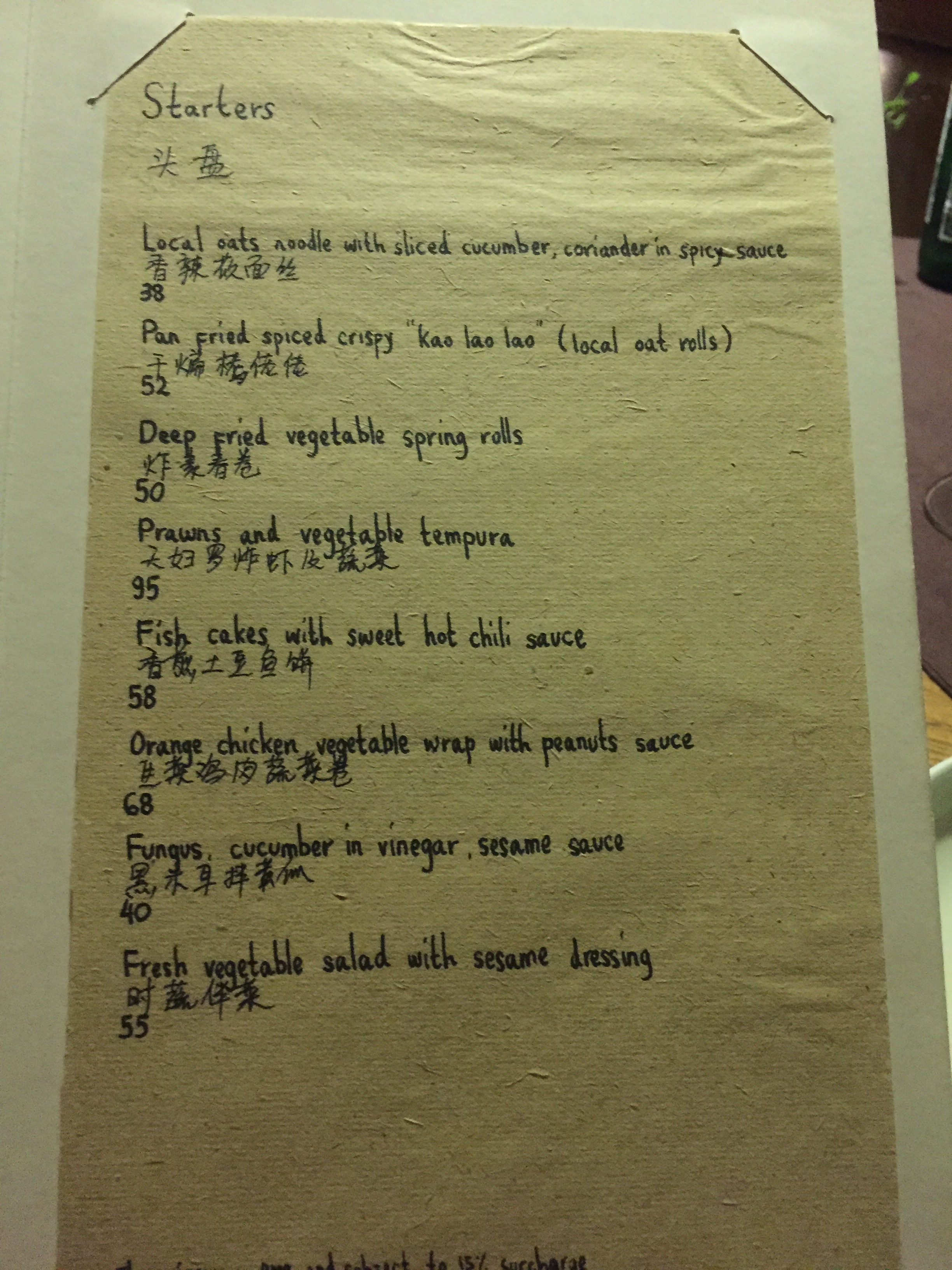 Xian to Shanghai
Without a doubt the highlight of any visit to Xian and possibly even China is to explore the legacy of The Army of Terracotta Warriors and visit the incredible burial site, where they were discovered pretty recently. We woke early and had a driver take us, keep in mind it was and hour and a half (maybe two-hour ride) but well worth it. I loved watching the different areas of this country unveil themselves from the car, and then, finally the burial site.
We start by passing the Mausoleum of Emperor Qin Shihuang and then visiting the Warriors themselves who stand guard over Emperor Qin's tomb. Despite the major attraction, the site is so big I did not feel overwhelmed by tourists. The day was actually perfect and we saw and experienced everything. I will say, the warriors are overwhelming and pictures do not do this site justice.
There is a cafeteria where you can have lunch, which we did, and in turn had some laughs over the tea sales.
Afterward we visited the Old City of Xian (Xian has an association with the mighty Silk Road). Here, we visited the old City Walls, The Islamic Quarter and also the Great Mosque, which is a beautiful area of the city in the midst of peaceful gardens.
Later that day we transferred to the train station where we boarded an overnight train to Shanghai (more about this and the train experiences below). We will book a private 4-berth cabin though private the trains are basic with shared facilities.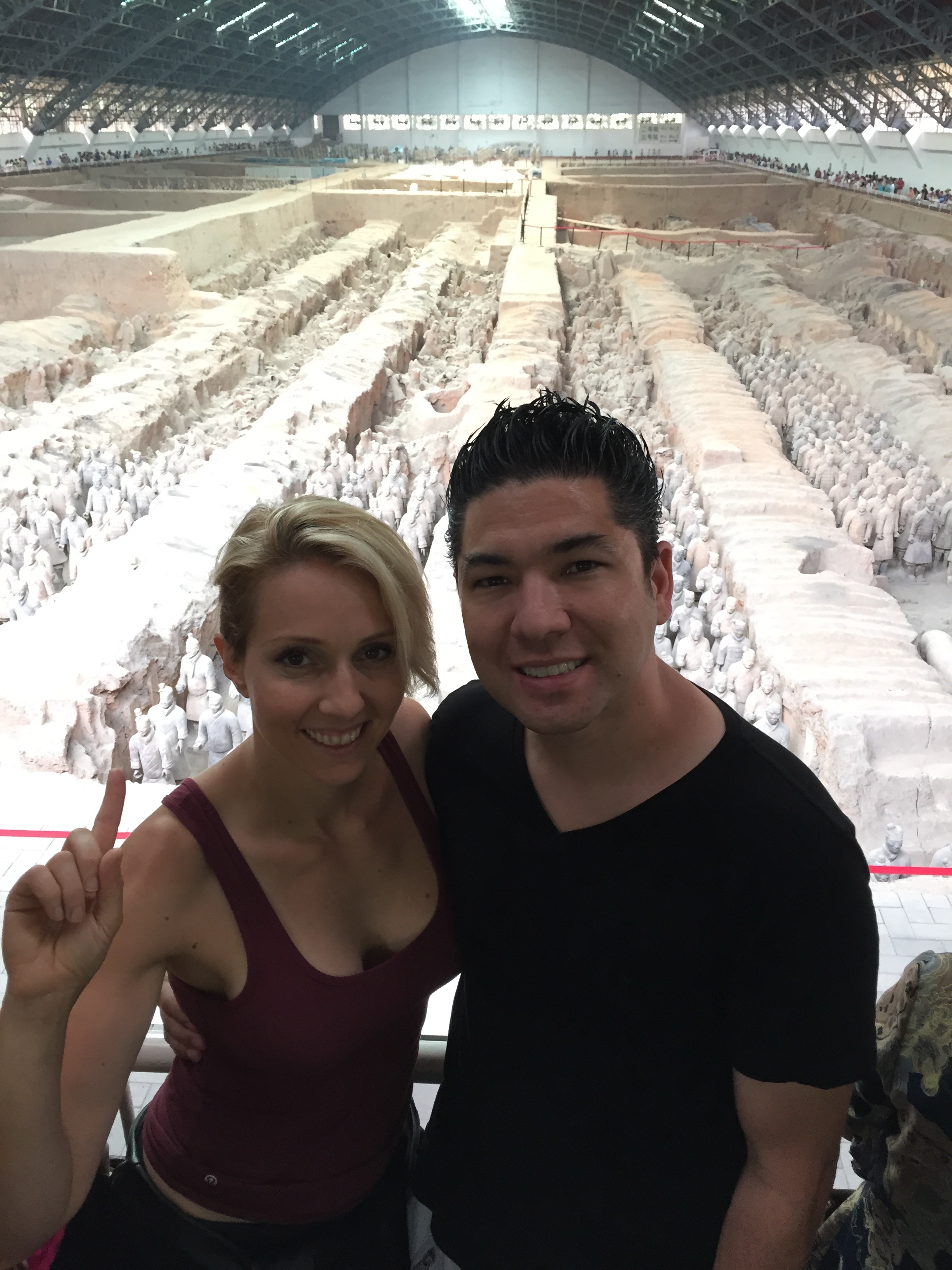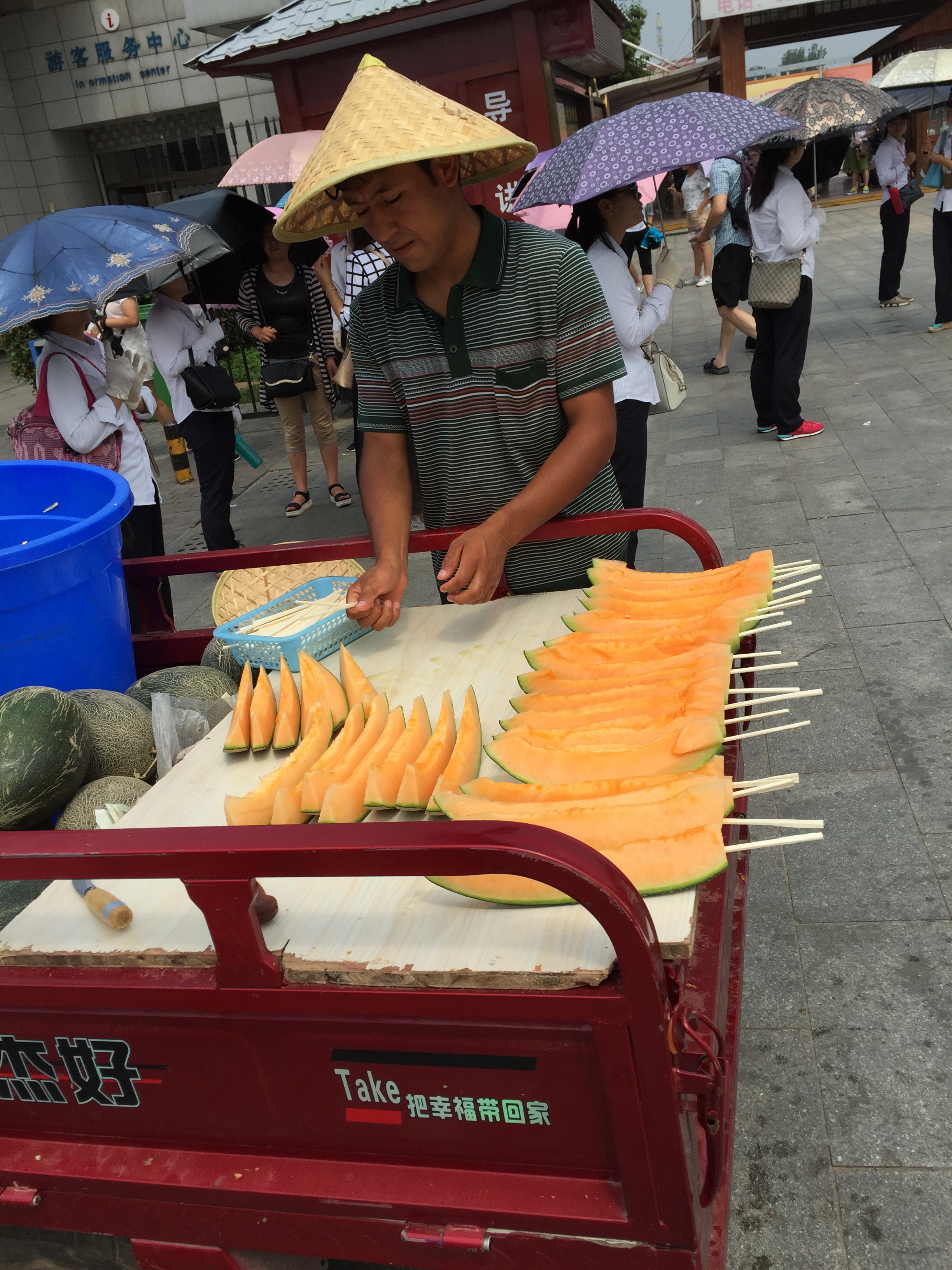 Arrival into Shanghai
We arrived to Shanghai in the morning, and went straight to the Peninsula Hotel (Deluxe Garden Room) for your a 1 night stay in this amazing city. In Shanghai we took a day to hang out and simply walk around and explore the city, letting each stall and block unfold without maps or guides.
That night we had a magnificent dinner on the rooftop of the hotel and then had a drink at the rooftop bar overlooking this incredible, massive city.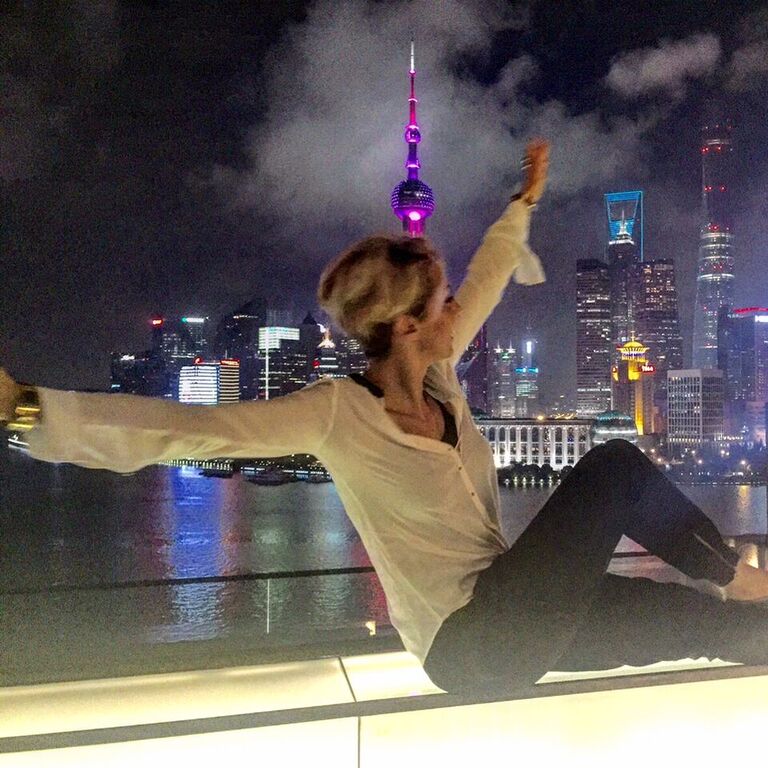 Shanghai to Hong Kong
Today is at leisure before your Guide meets you at a pre-arranged time and offer your transfer to the Train Station for the boarding of your overnight train to Hong Kong. We will book a private 2-berth Deluxe Soft Sleeper cabin with private bathroom. Eastern Journeys' services conclude with this train and you will make independent arrangements in Hong Kong.
---
Overnight train TIP: pack your own food! (and wine)
---
Our HONG KONG trip is detailed on it's own post HERE
TRAIN TRAVEL INFO
✔️Domestic train in First Class (Beijing/Taiyuan)
✔️Domestic train in Second Class (Taiyuan/Xian)
✔️Domestic overnight train in private cabin (Xian/Shanghai)
✔️International overnight train in private cabin (Shanghai/Hong Kong),
HOTEL INFO
Waldorf Astoria Beijing
5-15 Jinyu Hutong Dongcheng, Beijing
Tel: (+86 10) 8520 8989
Fax: (+86 10) 8520 8990
Jings Residence at Pingyao
16 East Avenue, Pingyao, Shanxi
Tel: (+86 0354) 584 1000
Fax: (+86 0354) 584 1211
Sofitel On Renmin Square
319 Dongxin Street, Xian
Tel: + (86 29) 8792 8888
Fax: + (86 29) 8792 8999
The Peninsula Shanghai
32 Zhongshan Dong Yi Road (the Bund), Shanghai
Tel: (+86 21) 2327 2888
Fax: (+86 21) 2327 2000
The Peninsula Hong Kong
China: Money & Exchange Rates – All hotels change foreign currency whilst larger cities have ATM's that accept most international banks' cards. The local Chinese currency is the RMB or Yuan, which at the time of writing (June 2015) trades at a managed rate of 6.2 Yuan to 1 US Dollar. If you are exchanging cash, please have clean, un-marked and un-torn notes. Exchanging RMB back into foreign currency can be difficult.
Telephone, Mobile (Cell) Phones & Wireless Devices: China & Hong Kong operate on the GSM system. The country code for Mainland China is + 86 and for Hong Kong it's + 852.
Internet Access – Widely available and most hotels offer wireless or cabled broadband access.
Clothing – Casual clothing is appropriate in China though better restaurants normally have a smart-causal dress-code. Make sure you have comfortable shoes as there will be quite a bit of walking.
Photography, Memory cards and Camera film – China is a photographers dream and photography is allowed in most places though taking pictures of airports and military facilities is prohibited. Be sensitive if taking photos of people and you may find in some places that taking a photo of someone requires a few Yuan! Memory cards and Camera film is widely available though can be expensive in places. I like to make a habit of smiling, then nodding and pointing to my camera- a polite way to ask if a picture is okay. If they say no, I smile and bow (hey, its a respect thing and you must follow it!).
Antiques – Widely available in China though many are newly made! Shopping in China is 'Caveat Emptor'. Antiques dating from before 1911 cannot be exported from China. DO YOUR RESEARCH HERE! But you can find a to of great stuff at shops and markets. Paintings, states and yes- cool clothing!
Medicines – Basic medicines are available in the shops at each of the hotels in which you will stay though any specific medicines you require should be brought from home. Take your allergy, pain and stomach meds from home.
Tipping – Tips to local tour guides and drivers will always be appreciated. Our suggestion is US$ 15 a day for Guides and US$ 8 a day for Drivers (full day drivers, which may be worth a hire if you have limited time in a city, or want to drive out to attractions outside the city walls).
I think is that China is BIG and when you're looking at it it may be best to decide what type of experience you want to have (culture, history, luxury, authenticity, farm, city, food, adventure) and then begin to work your way down the map.
The best part of this entire trip was the combination of very authentic 'down to earth' local trains (very local and very down to earth) along side luxury five star hotel stays.
Traveling by train allows you to truly see and experience the culture the way a local living in the country would, however it is tiring and not something i would recommend a traveler who doesn't want to put work into their experience.
The contrast of a luxury hotel after a fun yet semi rough night on a train is the perfect mixture of China. Keep in mind that China is huge, a vast country with so many variations of its culture throughout each pocket or part, I knew from planning this trip that China would deserve many visits. This would be our first of many.
KEY TIP
Your Visa is $ so be mindful when planning that Visa costs go between 3-500 dollars and if you are traveling with family that's a big added expense.
HONG KONG does not require a Vida (I think) – please do your own research as things change quickly.
PLANNING WHERE TO GO
As first time visitors it was a no brainer to visit the main cities and see the places that I'd only heard about in textbooks and National Geographic magazines- The Great Wall, Tieneman Square, The Terracotta Warriors, the crazy high-rises of Shanghai
In reality my dream has always been to go to Lasa which is on the complete other side of this huge country. And it feels like a different world compared to in Beijing or Shanghai. But that would be for another trip.
For us, the entire three weeks of travel would include heading to China, working our way down to Hong Kong and then meeting my mom and step dad to head over to Japan (diff post).
For this first part of the trip we decided to keep it very basic and do an incredible journey from Beijing all the way down to Hong Kong by train. Not only so that we can see more of the country, but also because my husband hates flying, so the trains would help us avoid unnecessary flights and get us a unique view of this part of the country.
—
---